James Rosenquist


Jim Rosenquist hadn't been shown at all in London so I felt that it was high time to remedy the situation. Like Agnes Martin and Andy Warhol who had both stopped painting around 1968 until the early 70's, Jim and his family were involved in an horrific car crash around this time which resulted in his not painting again until 1972. From 1973 and for the next 10 years I set about trying to buy every work on the market of his from the 1960's. Bob Scull who had been one of his biggest and earliest collectors was my main supplier. Originally I had met Bob at Parke-Bernet in March of 1970 and we quickly became great friends and he was a great supporter of mine right up until his death.

Knowing my interest in his work Jim approached me in the late summer of 1973 about buying Silo from him. There was only one problem which was that the painting was bigger than the gallery (about 9 ½ x 10 ½ x 2 feet). Knowing how important this painting was I had to buy it and find a home for it. Just before Christmas I succeeded in selling it to the Tate Gallery and promptly sent Jim a telegram (no fax no email then) to give him the good news. The next time I visited him in Easthampton I noticed my telegram pinned to the notice board in his kitchen which gave me a lot of pleasure. This exhibition 1974-75 was the first of many exhibitions we had of Jim's work with David Sylvester writing for the catalogue.

The first time I went to visit him after he moved to Florida, he had a studio in Ybor city, which had been a Cuban-cigar town, now deserted it resembled a set for a western. His studio had been a dime store. When he picked me up from Tampa airport, he reeled off a list of motels and asked me which one did I want to stay in, slightly curious I asked him why. His answer was 'I like to stay in a different hotel almost every night this way I get clean sheets and all the perks and they haven't got a clue who I am.' Then there was a big article in the local paper and his anonymity was blown so he wasn't treated anymore by the various hotels as a loyal regular customer. This probably led to his move to Aripeka.

An especially memorable evening with him was in New York soon after the telephone directory had been published with his cover design. We had dinner to celebrate, got a bit pissed and decided to go on and catch the comedian Sid Caesar's show at the Rainbow Room. There was a long queue and we were refused at the door, so I yanked a New York telephone directory out of the nearest booth and explained to the bouncer at the door that I was with the famous artist who'd designed the cover and I'd get him to sign it for him if he'd let us in. Jim duly signed and we got star treatment, the best seats in the house! But we behaved so badly and noisily that after 10 minutes we were chucked out!
---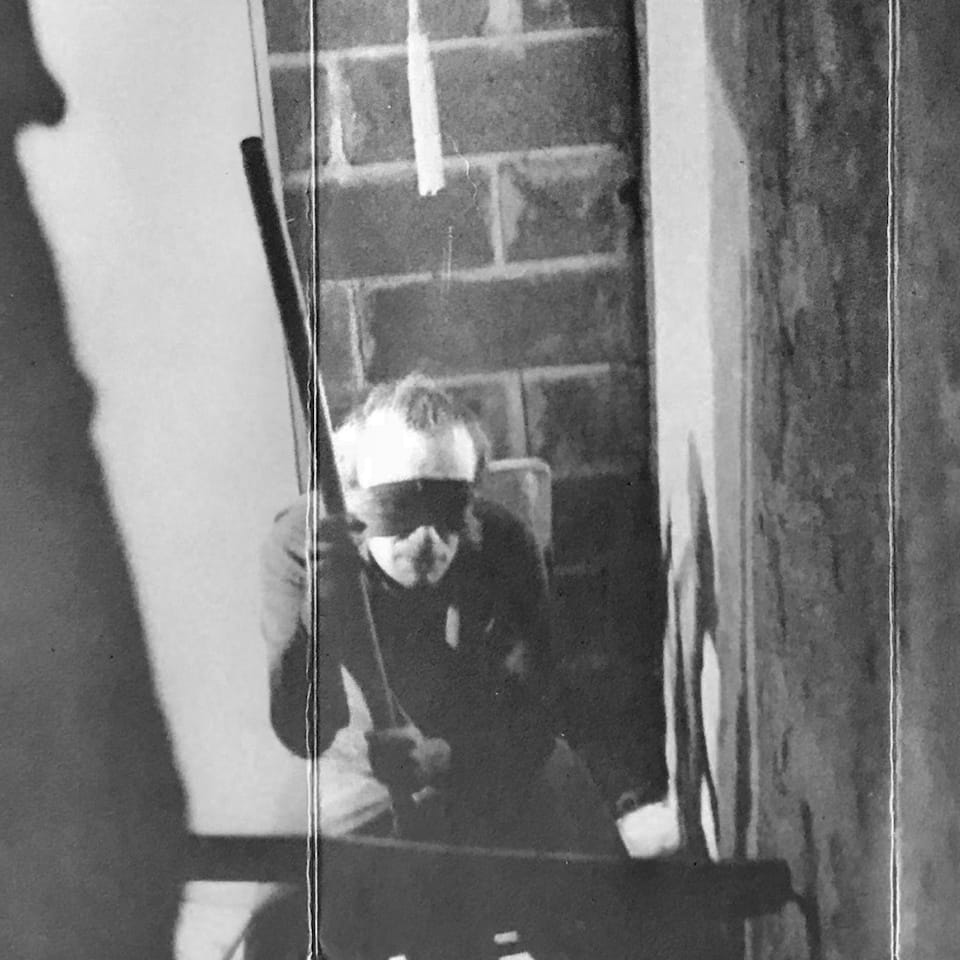 Vito Acconci
While I was still at Parke-Bernet, I went with my friend and colleague Marc Blondeau to a performance that Vito was doing in a space in Soho. This particular performance consisted of the artist standing blindfolded wielding a crowbar at the bottom of some darkened cellar stairs. The idea was to go down and challenge him, of course, Marc took to this like a duck to water although to this day he claims I was trying to kill him, whatever the truth we are still great friends to this day. I had been interested in his work from this time and having already shown his colleague Dennis Oppenheim in 1973 I was only to happy to cooperate with Ileana Sonnabend again and do this show.
---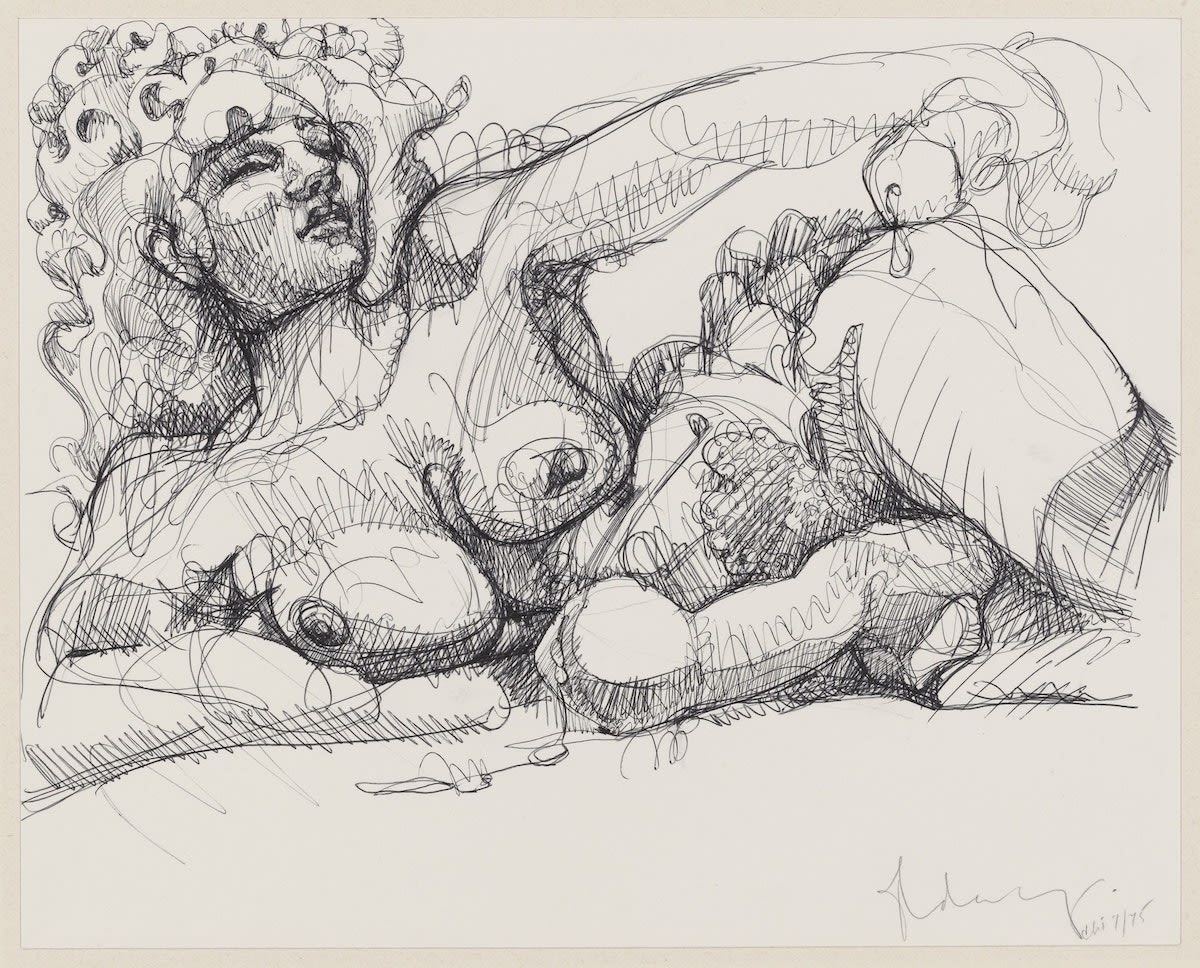 Claes Oldenburg, Whitehall III, 1975, Walker Art Center Minneapolis
Claes OldenBurg
I had known Claes from my Parke-Bernet days . I remember one night in Los Angeles soon after I had taken over the gallery in London, hosting a small dinner for him at a very good restaurant in Hollywood called Studio Grill. Marc Blondeau was there, who joined Parke-Bernet just before me, and been sent out to run the LA office. I had this rather exotic girl-friend who as well as Frank Zappa's cleaning lady, was a stripper. She wore string-vest dresses and when she got embarrassed pulled them over her head barely covering mother nature! She also passed out quite a lot! Claes took a shine to her, as most people did, and doodled a drawing on her napkin. Then he made a bread sculpture, which Marc asked him to sign. Claes said yes and bit it in half! When we left my girl-friend forgot her napkin drawing. We went back to get it but they denied all knowledge of it. I hope some waiter somewhere has held on to what will now be quite a valuable napkin.

In 1975 Claes spent a lot of time in Chicago at the Whitehall Hotel and in London at the Kensington Palace Hotel; and he'd made a lot of erotic drawings. He showed me them and I said could I do an exhibition. He was thrilled. No one in America was prepared to show them, even though this was the seventies before Aids and political correctness. We showed them in November 1975, his first commercial show in England since Robert Fraser's in 1966. They caused quite a stir. In his piece in the New Statesman Robert Melville wrote that while some of Oldenburg's previous drawings of 'fag ends and used lipsticks' had led to public monuments he understood the artist was 'not at the moment accepting commissions based on the present exhibits'! Amongst the sales we made a couple to the MOMA in New York through a gift from Charles Benenson and a couple to Lew and Susan Manilow which I exchanged for a sculpture by John Chamberlain which I then traded with Allan Stone for a Schwitters collage. That was how a lot of business was done in those days. The Manilows asked me to resell them for them some 30 years later and this one I sold to Myron Kunin who gave it to the Walker Art Center. I know that Claes has been recently discussing with Paula Cooper, one of the last real dealers, about redoing or doing another erotic drawing show but for the time being he feels that my show of 1975 should remain a stand alone exhibition.
April 16, 2020