Barnett Newman
In early January, I had arranged to meet Gerry Elliott in Basle in order to view Barnett Newman's Queen of the Night at Galerie Beyeler. When we arrived Gerry asked to examine it under an ultraviolet light. The painting being an awkward size (96 x 18 3/4 inches) and Beyeler's gallery being quite higgledy-piggledy, the only place suitable for us to see it was in the broom cupboard. After the cupboard had been cleared out, the painting was taken in by Ernst Beyeler and his restorer followed by Gerry and myself. How we all fitted in I can't imagine, however, the deal was done for a little over $50,000. Gerry paid some money and gave a small painting by Sam Francis for the rest. Gerry gave me a 5% commission and Ernst was to give me his part when the Francis was sold. To this day I have never discovered if it was ever sold.
---
---
Franz Kline, Painting No. 3, 1952, oil on masonite, 150 x 183 cm, 59 x 72 inches, Private collection
FRANZ KLINE
Two of my favourite Abstract Expressionists are Barnett Newman and Franz Kline. One of the first people I met when I came to New York in 1968 was Betsy Ross Zogbaum who had been Kline's mistress. She and the widow who had been institulionised for years were the beneficiaries of his estate. So with David McKee's help, I was able to hold the first commercial show in London (the only other one-man show had been Bryan Robertson's Whitechapel show in 1964). Around the time of this show, I bought from Ted Power through Leslie Waddington, his Kline 'Painting no.3' from 1952. Joe Pulitzer and Allan Stone were both trying to buy it from me for around $100,000 at the same time but Allan finally got it with money and a bit of part exchange which included three 12 inch square works by Bob Ryman from the early 1960's for $2,500 each (a few years ago one of them sold for £1,200,000 at auction) and some magnificent John Chamberlain sculptures.
---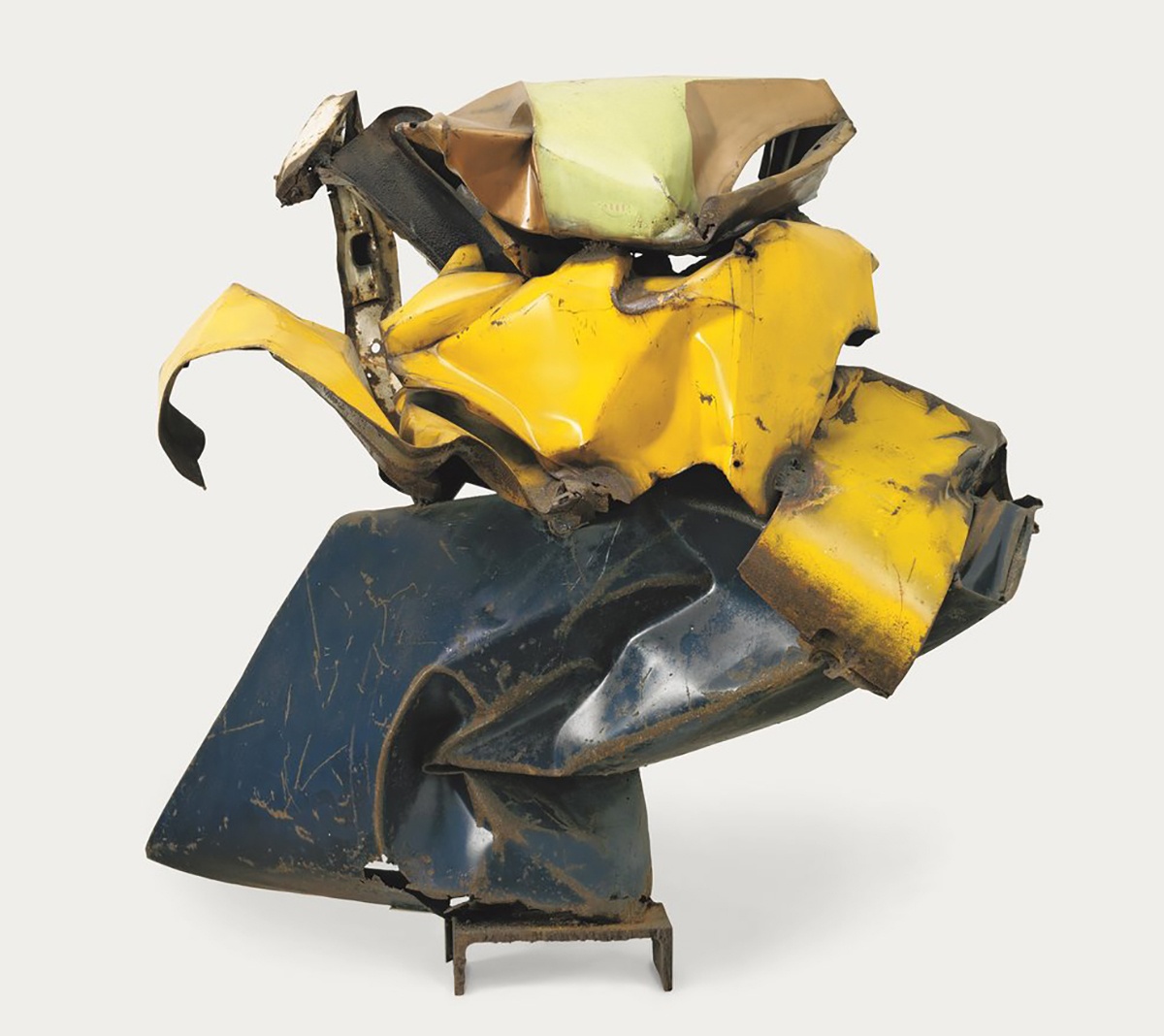 John Chamberlain, H.A.W.K, 1959, painted welded steel
130 x 135 x 104 cm, 51 1/2 × 53 × 41 inches, Collection: The Glass House
John CHAMBERLAIN
Allan Stone was not only a great friend but a great dealer. He lived in a huge house in Purchase NY. It was literally packed to the rafters, you had to manoeuvre yourself through little passage ways in every room (and there were many). There were masterpieces by Kline, Chamberlain, Cornell, de Kooning, Thiebaud, Mallary, Graham, Calder, Bugatti and Gaudi furniture as well as African nail fetish pieces interspersed with cigar store Indians and anything else that took his fancy. The same went for the porches but with the addition of a collection of Bugatti cars. The driveway looked like a pretty full car park. So much so, on one of my first visits the cab driver remarked to me, 'I don't know this hotel'.

Allan and I had the idea of trying to buy some things from the Martha Jackson Gallery as she had passed away and I had recently bought a major early Henry Moore from her son David Anderson. David was agreeable to this and took us to his storage. It was a treasure trove and we were like kids in a candy store. I bought about half a dozen Chamberlains which, along with the ones I got from Allan in the Kline deal, made up our Chamberlain show which was also the first show of his in London. With everything that Allan bought we needed a ten-ton truck to carry off the spoils of that day!
---
ROY LICHTENSTEIN
Two things happened at the beginning of the summer. The first was that Joseph Ettedjui, the founder and owner of Joseph, approached us about buying our lease at South Molton Street as the street had recently been pedestrianised and become a hub for fashion. We only had 18 months left and would be facing a huge increase from the £6,000pa that we were paying, so his offer of £45,000 seemed irresistible providing we could find an alternative space. Luckily we had heard that there was a space on Cork Street for which the key money was £12,000. Even luckier the new Landlord Peter Palumbo who was a very good friend and client pointed out that the downstairs could lead to the disused squash court of the original hotel so we were able to incorporate two spaces. The second was that Roy Lichtenstein had started making bronze sculptures. With the summer fast approaching Leo Castelli was worried as to how he was going to pay the casting costs; they were to be in an edition of three with no artist's proof (i.e. Roy kept one set and the other two would be for sale). Leo contacted us about becoming his partner in this venture, so we agreed to pay half with him and do a joint exhibition in November at his gallery in New York and ours at the same time.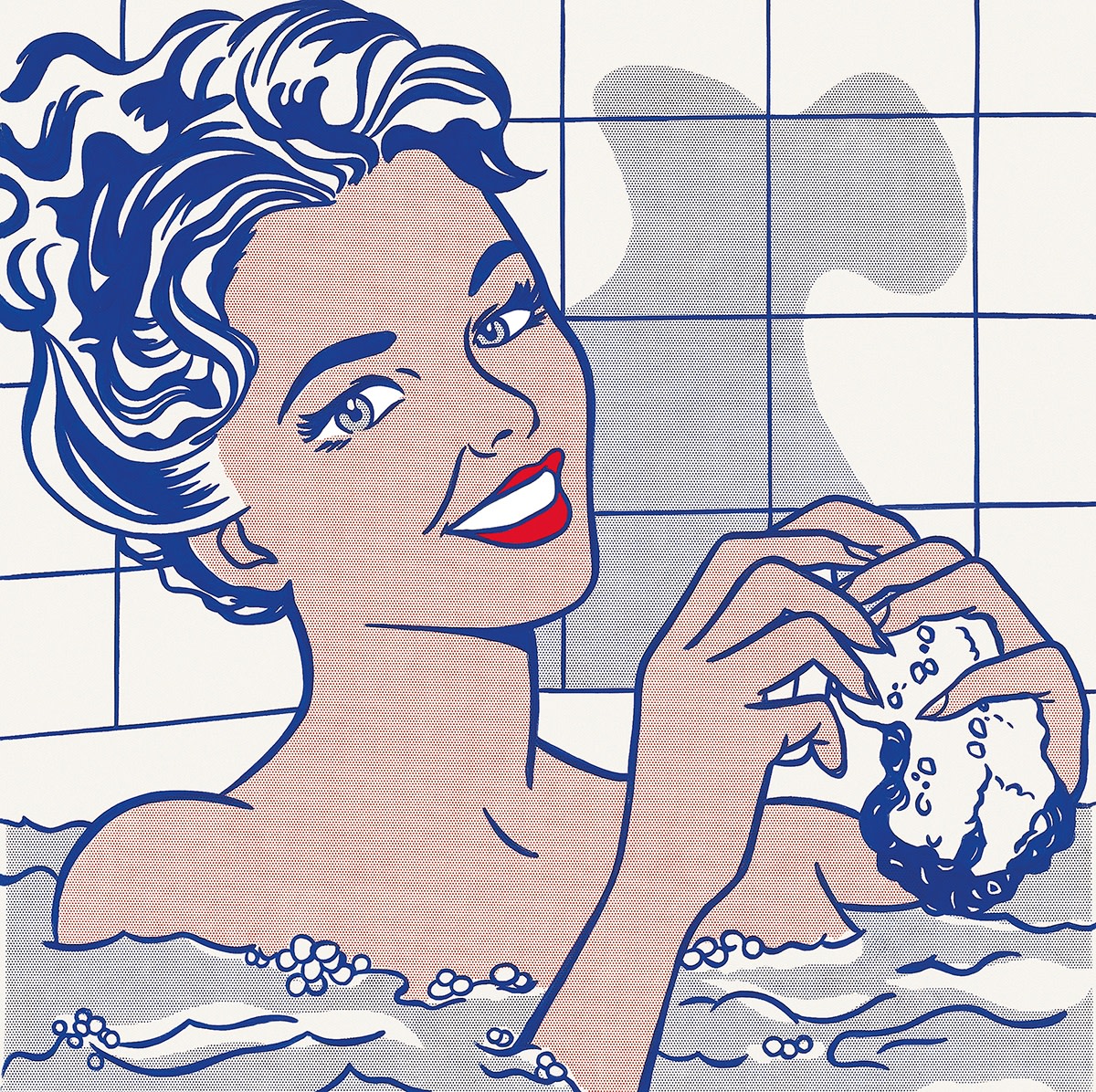 Roy Lichtenstein, Girl in the Bath, 1963, oil and magna on canvas
173 x 173 cm, 68 x 68 inches, Collection: Museo National Thyssen-Bornemisza

April 30, 2020