Lee Miller and Man Ray
The year started with the second exhibition that I had done with Timothy Baum. It was entitled 'Landscapes and Ladies: Lee Miller and Man Ray - two old friends and colleagues, who died in 1977 and 1976 respectively. With the help of Lee's son, Tony, whom I had been at Prep-school with, we were able to put together a marvellous group of her iconic images. At the time Lee was largely forgotten as a photographer (which, thank God, has now been rectified). Timothy supplied (as usual) an extraordinary group of Man Ray portraits including some of Lee. I was very proud, and still am, to have been able to do this small but memorable memorial show to the two of them.
---
Lucas Samaras, Box no. 94, 1976, wood, 13 x 13 x 26 inches (33 x 33 x 66 cm), Private Collection
Lucas Samaras
In March we held our first Samaras show which I think was probably the first time he showed in London. I sold one of the pieces 'Box no. 94' to the Tehran Museum of Contemporary Art. The museum paid fairly promptly but I never received any instructions of where to deliver it to. Then comes the revolution and I still had the piece in my gallery, so what should I do? The solution came sometime later when a diplomat from the Iranian Embassy came to see me. I forget his name but we became quite friendly and he had worked there under both regimes and told me some very amusing but frightening stories about the current regime. Anyway, the long and the short of it was that I was asked to contribute to the 'Earthquake Fund' in cash. After checking out the legality of this, I bought it back and fairly shortly after that I sold it to Charles Saatchi.
Later in the year, using the 9 x 7 1/4 inch Polaroid format, Lucas did a series of his friends who were nude whilst he was fully clothed beside him. I believe everybody agreed, some with more relish than others, except for the wife of one of his dealers who declined. As my wife and I were recently married, the background for our pictures was strewn with plastic flowers. At first it was a rather strange experience walking around in the nude whilst being posed by a fully dressed Lucas but soon became perfectly natural. He gave us one of them which we have to hang very discretely, first it was because of the children and now the housekeeper.

A few months later I was asked by my old friend Tony Shafrazi, who was advising the Empress for the Tehran Museum, if I knew of an important Jasper Johns for sale. I did know that the Abrams family were thinking of selling 'Passage II'. After some negotiations, the piece was sold to the museum for $250,000 and unlike the Samaras box, they did take delivery of it but it was never to be seen again.

I first met Mike Abrams in 1973 through my colleague Kasmin. I had asked Kas if I could borrow a book published by Abrams that I thought he might have, he didn't but suggested that I ask his friend Mike. This I did and that's how we met and through him his father Harry. From then on I bought from and sold to them a number of works. Harry had one rule: he wouldn't release the work until he was paid but he wouldn't pay for the work until he had received it. It was just something you had to accept.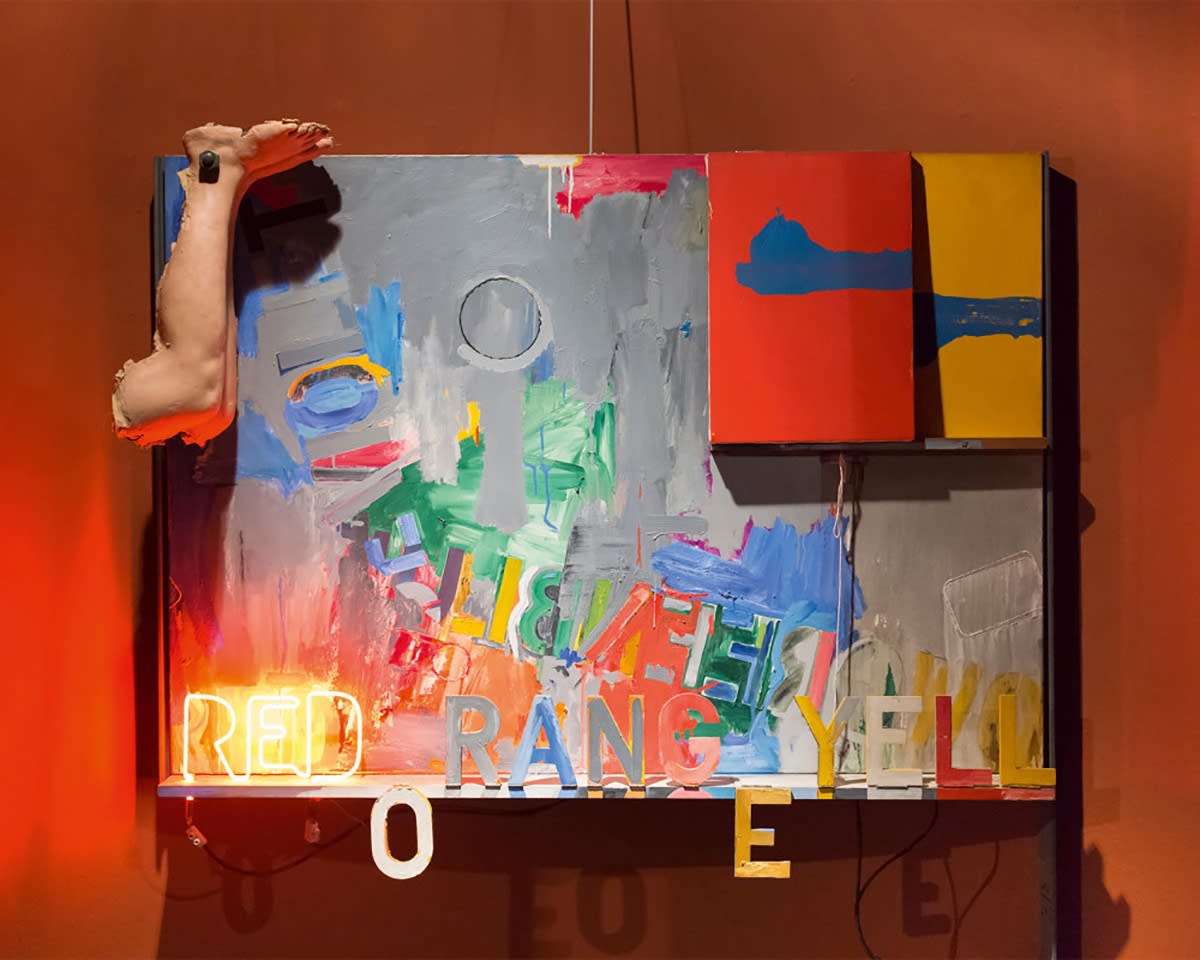 Jasper Johns, Passage II, 1966, oil on canvas with objects, 60 x 63 x 9 inches (152 x 159 x 23 cm), Tehran Museum of Contemporary Art
---
Robert Rauschenberg
Our second of three exhibitions with Bob was in June. This time it was of assemblages and transfers on prepared wooden panels. Earlier in the year I had gone down to Captiva to select the show. Bob who was a complete life enhancer, seemed only to work late at night and on into the early hours so all the works were made under artificial light. What most people don't realise is that these paintings have to be viewed in the same fashion as they were made. If you put them in daylight or spotlight then they become very flat which they aren't at all.

Rauschenberg's, Bride's Folly, has quite a funny story. In 1974 I felt I needed a pagan Christmas, so I went to Las Vegas with a friend. The croupiers wearing tinsel on their tits was as far as Christmas went! En route I stopped off in Chicago to see Bud Holland, who knew where every painting was in the city and even what everyone had in their basement. So we were driving round the Chicago suburbs and he said, "We'll knock on this door. It's quite interesting, she's only got one painting. Her mother took her to New York just before she married and they went to Castelli and they bought this Rauschenberg combine painting, 'Bride's Folly'. You might like to see it." We knocked on the door and were let in and had tea or drinks with her and saw this beautiful painting, which in 2013 would be in The Bride and the Bachelors, Duchamp with Cage, Cunningham, Rauschenberg and Johns show at the Barbican. Anyway, we asked if she'd consider selling it. "I don't know," she said, "What's it worth?" We offered $50,000 and she went white, muttered "Excuse me," and ran out the door. When she returned all was revealed. "Look," she said, "I'm getting divorced and I just gave this painting to my husband and had it valued at $12,000! Now I've cancelled that part of the settlement so, if you give me $55,000, it's yours." You bet we gave her $55,000!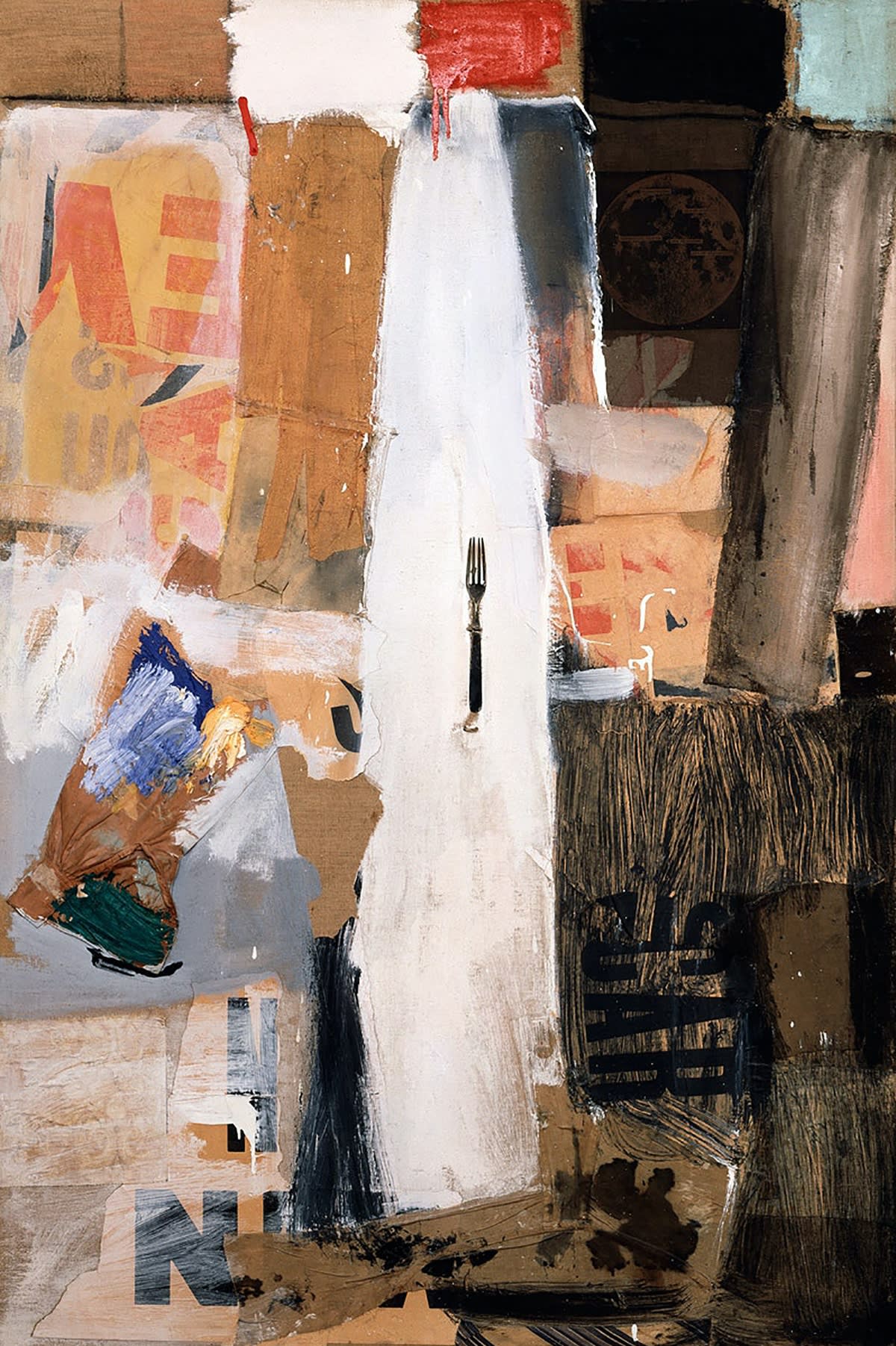 Robert Rauschenberg, Bride's Folly, 1959, oil, mixed media on canvas, 57 ¾ x 39 inches (

146.7 x 99.1 cm)

, Private Collection
May 7, 2020