Ferens Art Gallery
The director, John Bradshaw, had worked for my father so we had a particularly good relationship with the museum. Andrew Murray had recently sold them a couple of remarkable portraits. One was Wyndham Lewis's Portrait of Mr Wyndham Lewis as a Tyro, 1920/21. When we did our Wyndham Lewis show in 1974, I tried to buy it from the owner who was a distant cousin of a very old family friend but was told that she had no interest in selling it. Then not long afterwards, I saw it coming up in a Christie's sale with an estimate of £8-10,000. I immediately got back in touch with her and offered her £12,000 if she withdrew it from the sale; she refused this offer as she was confident that she would get a lot more. Along comes the sale and there are no bids so she immediately telephones me in all seriousness to say that she will accept my offer of £12,000. I really don't know how stupid people think we are sometimes! About a year later she put it into Sotheby's where I bought it for £6,000 plus the buyer's premium and went on to sell it to the Ferens for £10,000. The other painting was Stanley Spencer's Nude Portrait of Patricia Preece, 1935, which we sold to them for £8,000.
---
Jasper Johns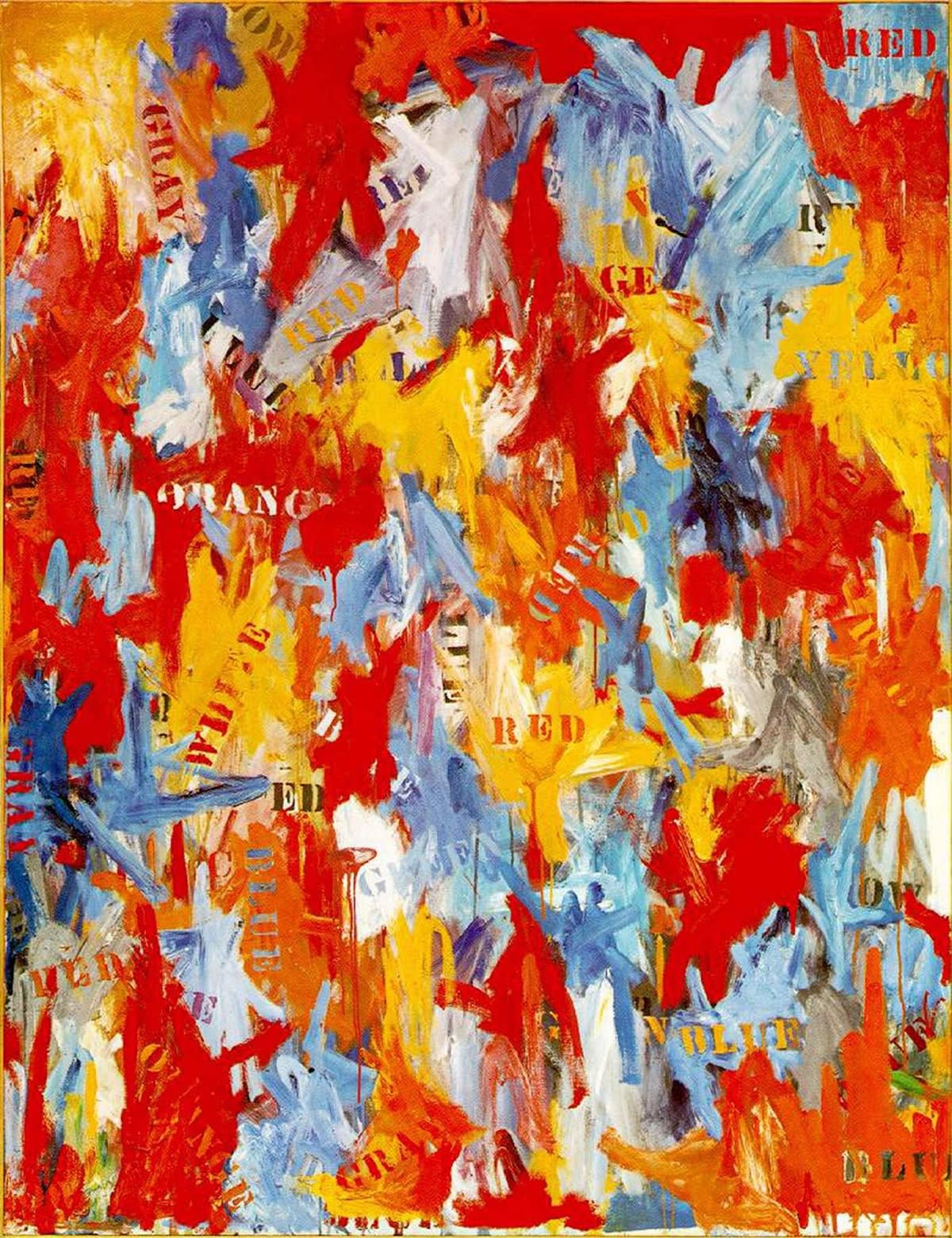 Jasper Johns, False Start, 1959, oil on canvas, 54 x 67 inches (137 x 170 cm), Private Collection

When the Whitney bought Johns Triple Flag from the Tremaines for a million dollars Bob Scull immediately wanted to better them, so he called me up and asked if I would be able to sell a Johns of his for more than a million dollars. I said I definitely could and he gave me the choice of three: False Start, By the Sea or Out of the Window. I got hold of Francois de Menil and asked if he'd be interested, which he was, so we went up to Scull's storage and I showed him the three paintings. They were each to be a million dollars plus 10%. In the end it was actually $975,000 to Scull, plus 10%, which meant we exceeded the million dollars comfortably. Francois, after much consideration, chose False Start, and about six months later Francois bought By the Sea. About 5 years later he sold False Start at auction for $17,000,000 and more recently it was sold again for more than $80,000,000.

There was one very embarrassing moment. Scull's storage space was bang next door to de Menil's - so the painting didn't have to travel very far! Francois was paying in instalments over a few months and he made a visit to London during this period, staying with Martin Summers. I got a call, rather a desperate call, saying there'd been a fire in the warehouse. In fact it may even have been on their floor; and nobody was quite sure who, if anyone, was insuring this painting! As luck would have it none of Scull's paintings were damaged and none of Francois' either. So the sale of False Start went ahead.
---
Edward Wadsworth
Edward Wadsworth, L'Avant Port, Marseilles, 1924, egg tempera on panel, 25 x 35 inches (63.6 x 89 cm)
National Maritime Museum, Greenwich
My father had known Edward Wadsworth from the early 1930's - Wadsworth was keen to get him to marry his daughter Barbara. My old friend Mark Glazebrook, who had organised the Wadsworth exhibition at Colnaghi a decade earlier, had been a fellow art professor with Wadsworth's grandson, Alex Holweg. So, with these connections, this is how this show of Paintings from the 1920's came about. We sold Regalia to the Tate, and The National Maritime Museum bought L'Avant Port, Marseilles, 1924, from the show because all the rigging was absolutely accurate.

Mark told me that there were two Wadsworths on the Queen Mary – the famous British ocean liner which had been brought to America and turned into a tourist attraction docked at Long Beach. I was staying with a friend in LA and after a particularly boozy lunch with Dorothy Lichtenstein, we all decided to set out for Long Beach, which we soon discovered was a lot farther than we thought. When we finally arrived at the ship and asked about the pictures no one had the slightest idea what we were talking about, but we found them eventually in the ballroom. Somewhere there's a photograph of us all dancing on this stage looking at these paintings! Unfortunately they wouldn't sell them. They were rather impressive, nautical ones from the 1930s.
---
Tate Gallery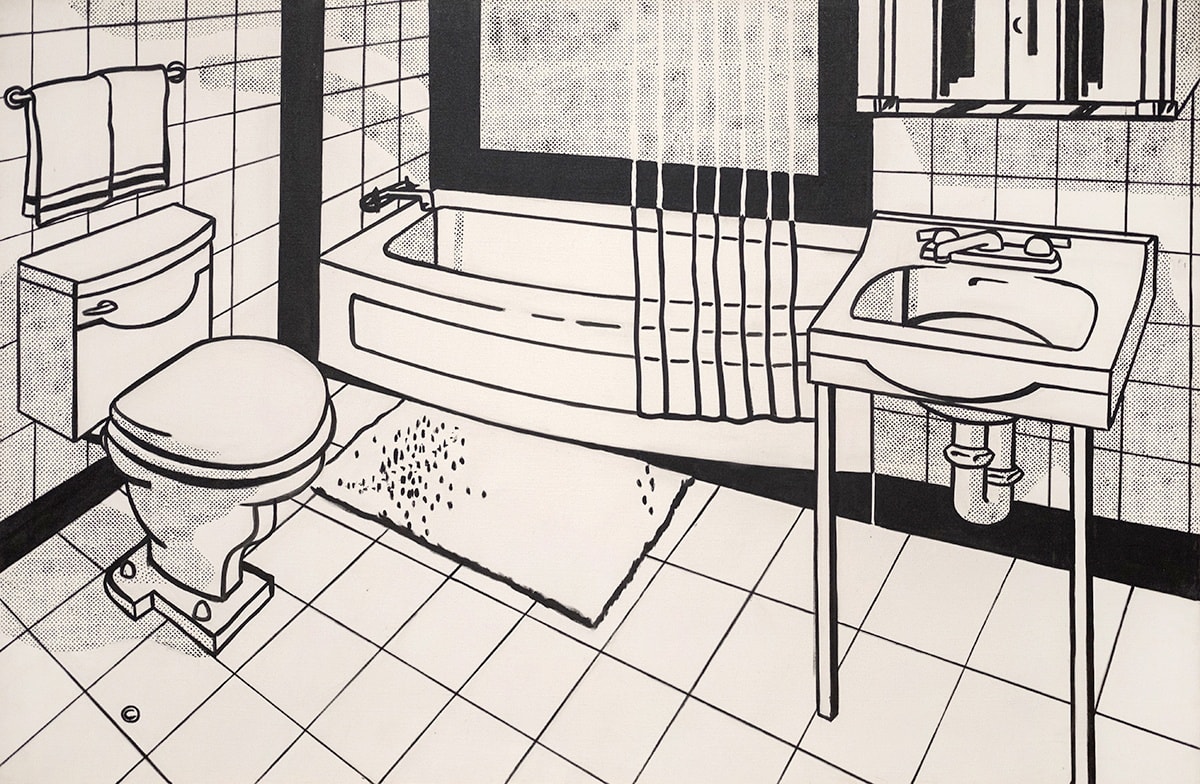 Roy Lichtenstein, Bathroom, 1961, oil on canvas, 45 3/4 × 69 3/8 inches (116.2 × 176.2 cm), Whitney Museum of American Art, New York

After a rather successful run of selling works to the Tate, it somewhat faltered at one particular meeting where we submitted three works: Ivor Abrahams's Lady in Niche, 1973, Roy Lichtenstein's Bathroom, 1961 and Cy Twombly's Untitled, 1959. They bought the Abrahams which was the first sculpture by him to enter their collection, but much to my surprise, both the Lichtenstein and the Twombly came back. I knew they wanted an early Black and White Lichtenstein as they had asked me to bid on Pauli Hirsch's Golf Ball when it had come up for auction and Bathroom, to my mind, was much more important and I really thought that it was a dead cert for them. It had originally been bought by Leon Kraushar, who was one of the original major Pop collectors, and on his death in 1967 the whole collection was sold to Karl Stroher. I got the painting through Thomas Ammann and having failed to sell it to the Tate I sold it to one of the trustees. A number of years later I resold it for him where it went to S. I. Newhouse who then sold it to the Whitney Museum. As for the Twombly, it would have been the first one to enter the Tate's collection. At a later date I sold it to Charles Saatchi and eventually it landed up in Madrid at the Reina Sofia Museum.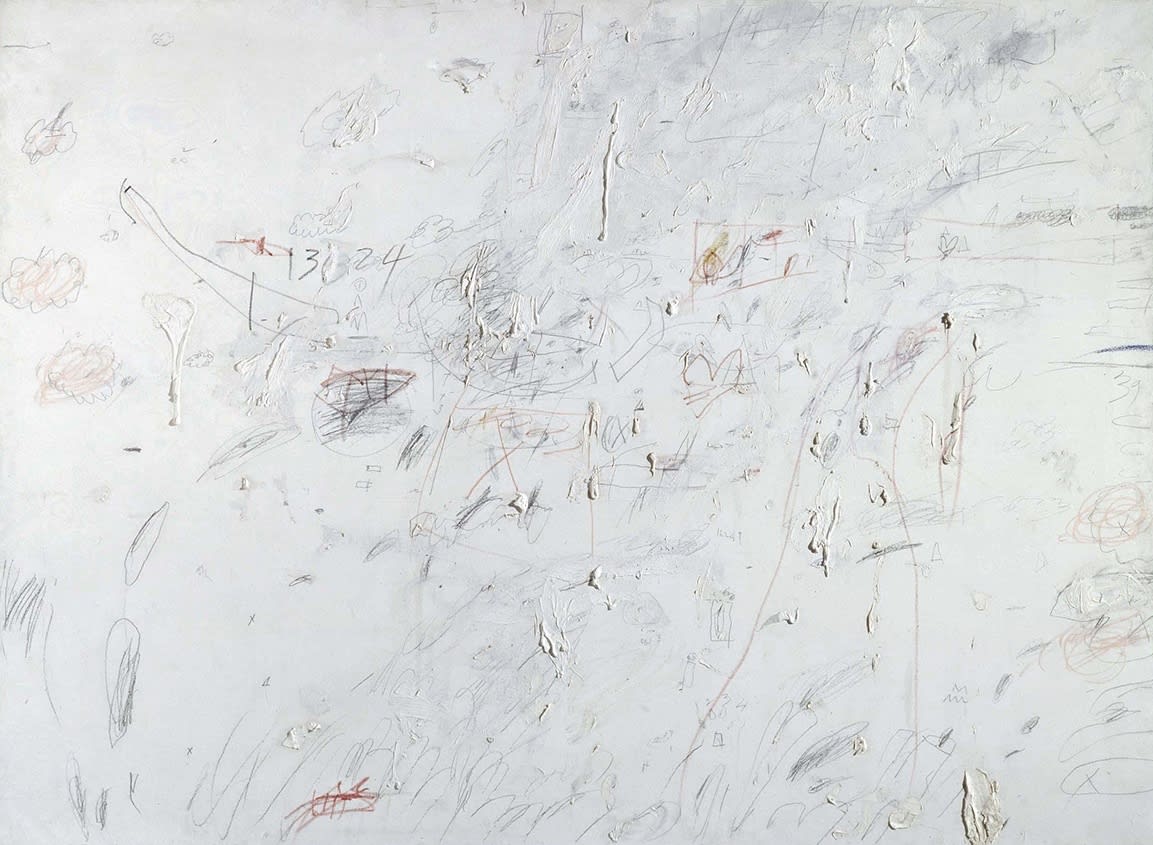 Cy Twombly, Untitled, 1959, Grease pencil, oil, and graphite on canvas, 57 1/2 x 78 3/4 inches (146 x 200 cm), Museo National Centroids de Arte Reina Sofia, Madrid
---
Robert Ryman
I had known Bob for a number of years and had always wanted to show him at the gallery. So I was absolutely thrilled when he agreed to give me this show. It was very successful and we sold a piece to the Tate as well as the Stedelijk in Amsterdam. I was always enormously fond of him, in fact he was one of our younger daughter's godfathers. When he was a smoker, he had this rather amusing habit of putting a large, and by no means random, selection of cigarettes into his rather beautiful case. He would then, with great deliberation, carefully select which one he was going to smoke. After his stroke, one Saturday morning, I had the great honour of going with him and his wife, the artist Merrill Wagner, to the studio. He had two groups of paintings on which he was working: the white ones and some very complex coloured abstracts which had nothing in common with anything he had painted before. There was no question of his mixing up the two styles and he painted each with the same deep concentration and knew exactly when he had finished.

In 1980, Leslie Waddington and I bought Bob's Untitled, 1961 at Sotheby's for about $47,000, which was a huge price as in the same sale there was a group of 10 Warhol Tomato Juice boxes that sold for about $10,000 for the lot. I was sitting next to Thomas Ammann who was also bidding on it, and so we landed up trying to stop the other one bidding. I sold it on a little later to Michael Rae for about $65,000, who later sold it at Sotheby's in New York for a little over $500,000, where again Thomas was unsuccessful as they missed his bid. The other day it came up again in auction where it made a little over $15,000,000.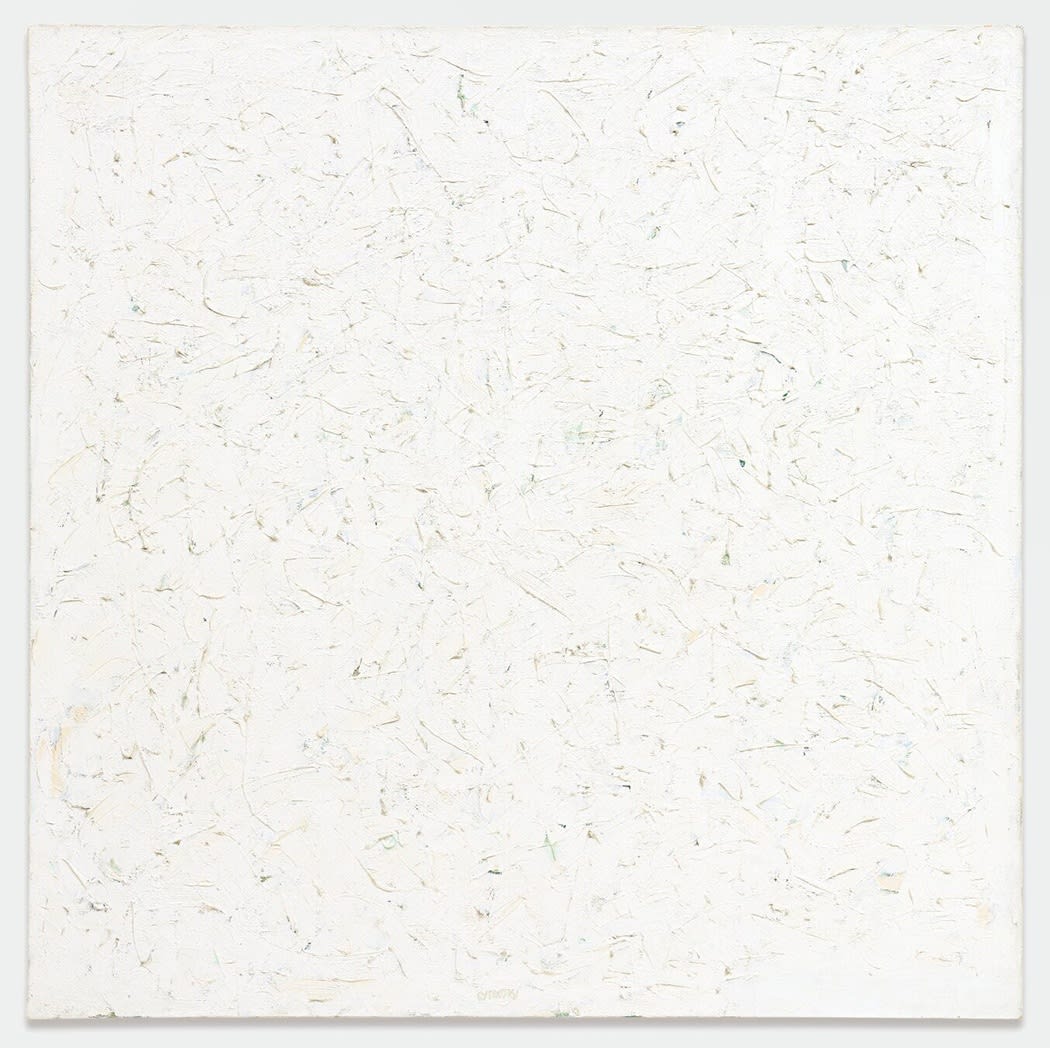 Robert Ryman, Untitled, 1961, oil on canvas, 48 3/4 x 48 3/4 inches (123.7 x 123.7 cm), Private Collection
June 4, 2020