A Tribute to Leo Castelli
This exhibition marked the completion of the gallery's renovations in which the squash court was directly connected with the old gallery space. The aim of the exhibition was to showcase the wide range of artists that Leo had shown and to get works by Dan Flavin, Jasper Johns, Donald Judd and Bruce Nauman from him for sale (all of which we did sell) as we already had work by the other artists in our stock. Steve Mazoh, a dealer friend of mine, told me that Henry Geldzahler wanted to sell his Ellsworth Kelly Spectrum VI (in 13 parts), 1969, and asked if I would like to buy it with him. Of course I was interested so I arranged to go and see it at Henry's. We bought the work for $200,000 and swapped it for a Kiefer with Ralph and Helyn Goldenberg who many years later sold it at auction for $5,200,000 which, I believe, is still a world record. We went on to sell the Kiefer to Stefan Edlis.

The show at the Metropolitan Museum 'American Art 1945-1970' which Henry curated was one of the most influential exhibitions that I have ever seen and definitely shaped my future career. The extraordinary thing is 50 years on almost all the artists that were included are still household names. At Henry's memorial service at the Met, I will always remember David Hockney's eulogy: "Henry always said that money can't buy you love but it sure helps you rent it!".

There was a very funny evening in New York. I was walking back home after dinner along Madison Avenue when I ran into Ellsworth Kelly and Diane Waldman. It was obvious that none of us were particularly sober, we all decided to have another drink together so off to the Carlyle we went. After a while Diane went home, leaving me alone with Ellsworth who announced he wanted to draw me. Although I would have loved to have been drawn by him, I wasn't up for it in the middle of the night. The upshot of it was that I ran off with Ellsworth in pursuit. I ducked into a cab, he jumped in after me so I jumped out the other side then around a couple of revolving doors and so on. Eventually I got home without being drawn.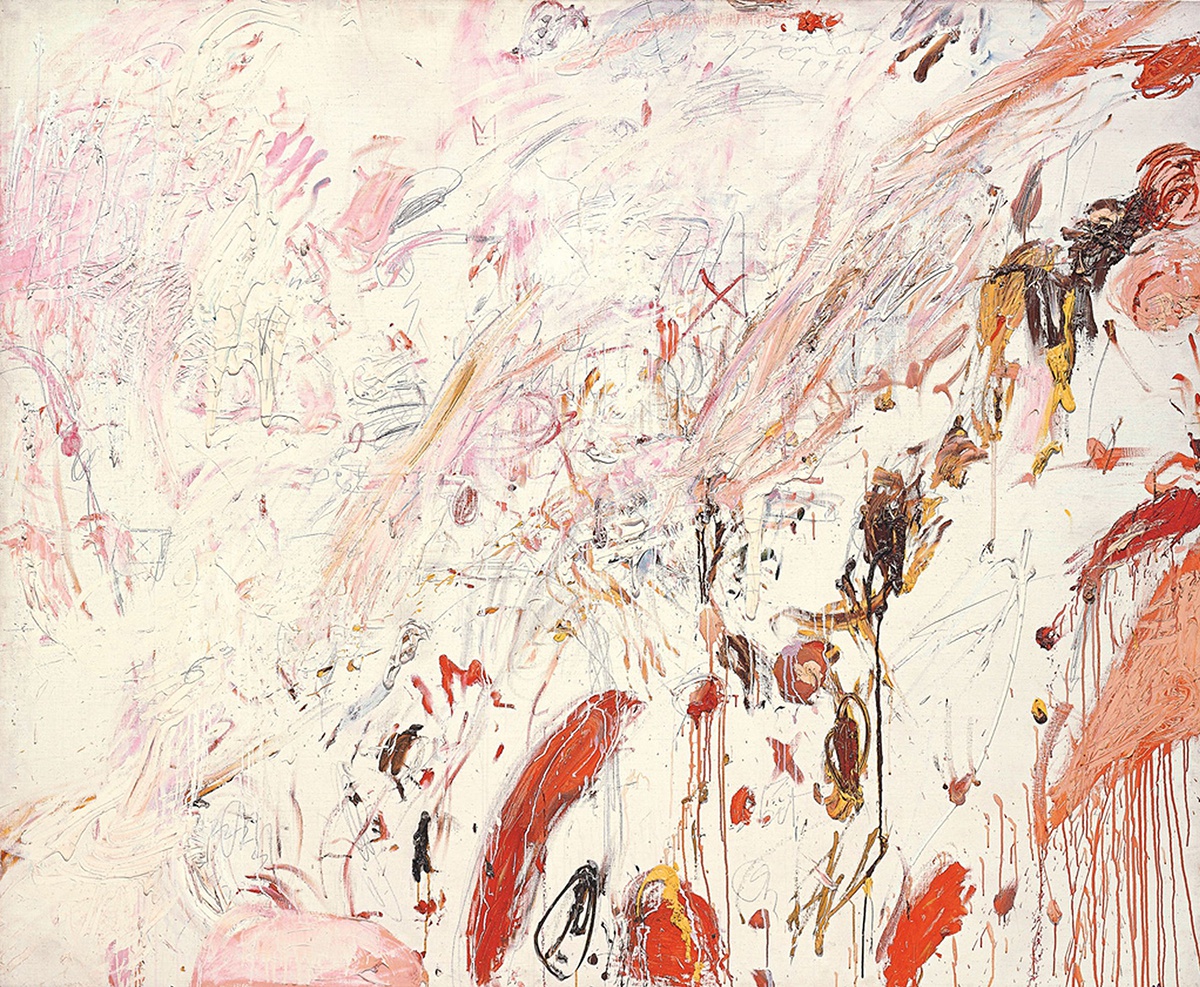 Cy Twombly, Ferragosto III, 1961, oil, wax crayon and pencil on canvas, 65 x 78 3/4 inches (165 x 200 cm), Private Collection
The Twombly that we had in the show was Ferragosta III, 1961, which I had recently bought through Mario Tazzoli and Massimo Martino. This work I really wanted to keep, having in effect traded it for Untitled, 1959, that I'd bought a few years before from Karsten Greve for about $75,000 which is now in the Reina Sofia. However at the end of 1989, I sold it for the then enormous price of $5,000,000 to Thomas Ammann.
James Rosenquist, Above the Square, 1963, oil on canvas, 84 x 84 inches (213.4 x 213.4 cm), Private Collection
In life if you have regrets, you can't go forward and you land up spending your whole life in agony. There is only one painting that I really regret selling which was Jim Rosenquist's Above the Square, 1963. There was absolutely no need for me to have sold it but my accountant at the time urged me to and put the money into my pension which stupidly I was bamboozled into doing. I got $275,000 for it and I am sure it would be worth a lot more today than what the pension has made for me. Maybe the moral of the story is never listen to philistines. I know that it was also one of Jim's favourites and every time I see it in an exhibition I get a little pang of regret.
---
Harold Shapinsky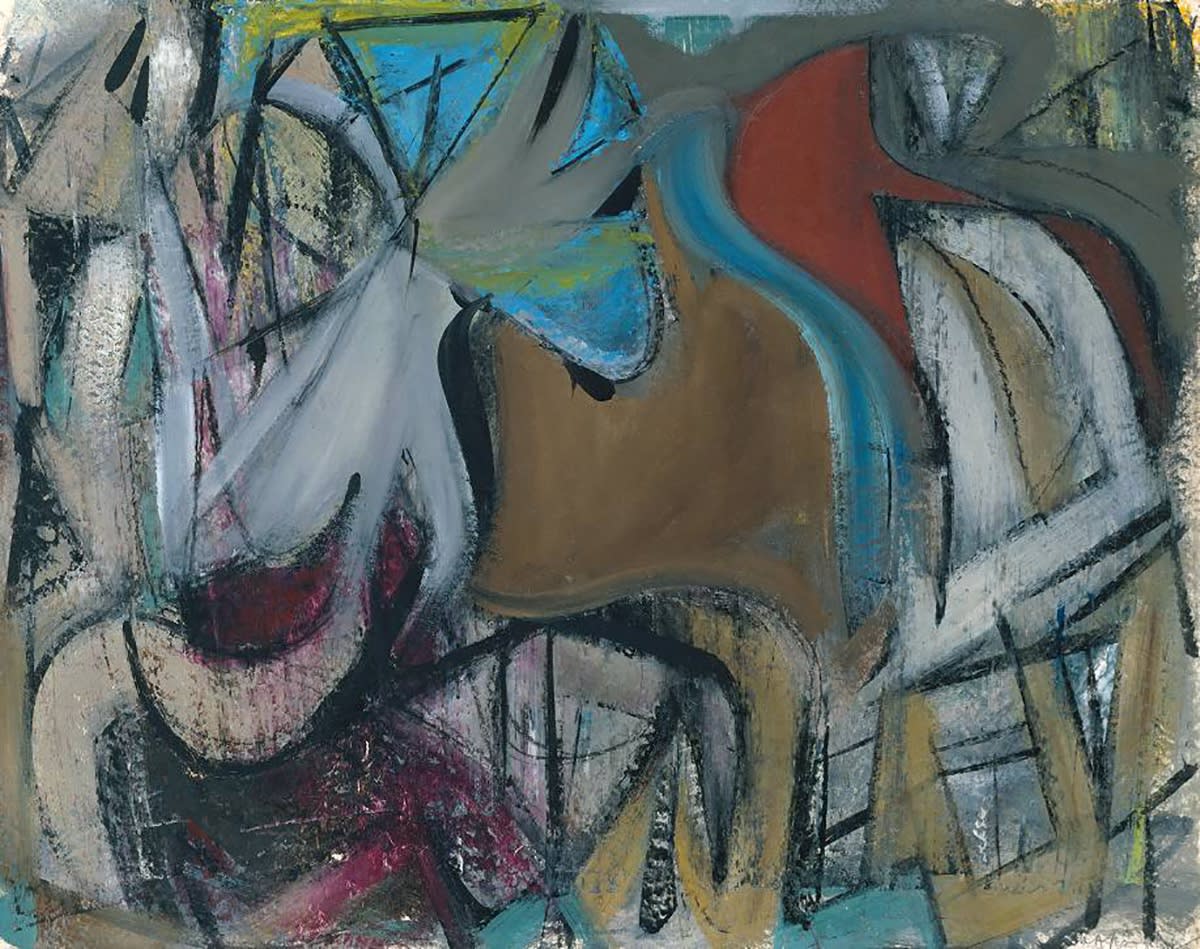 Harold Shapinsky, Untitled, 1949, oil enamel paint on paper on board, 24 1/4 x 29 1/2 inches (61.6 × 75 cm), Tate Modern
This is the most extraordinary story. Akumal Ramachander, who was an English teacher from Bangalore, had met Harold Shapinsky's son, David, in Chicago who had told him about his virtually forgotten artist father. David arranged for Akumal to meet Harold in New York. Akumal, who was perhaps the most persistent person I have ever met, decided that he was going to put Shapinsky back on the map. After involving Lawrence Weschler of the New Yorker magazine who wrote a 20 page story - Shapinsky's Karma, Akumal set his sights on London. He immediately contacted Anita Brookner, who had just won the Booker prize with Hotel du Lac, and she told him to go and see Ronald Alley at the Tate. Ronald was definitely intrigued by both the work and the story. Ronald then brought Akumal to me at the gallery and like Ronald I could see that Shapinsky was a genuine artist from the Abstract Expressionist time and I agreed to show him. At the same time Akumal had been in touch with Salman Rushdie and Tariq Ali, the first thing that happened was they got Channel 4 to commission them to make a film - The Painter and The Pest - and then they got articles published in both The Observer and Time Out. Salman Rushdie thought that it was one of those happy instances in which the East had replayed the West by discovering something that the West had mislaid and Tariq Ali called it a major art discovery. Waldemar Januszczak, who was then art critic of The Guardian, leapt into the fray by downing Salman Rushdie's claims as: "Careless, ignorant, hype-ridden, opportunistic, manipulative and just plain silly". So with the battle of words in the press and Tariq Ali's film, Shapinsky virtually became a household name overnight. The film over the years has been shown on New York's PBS Channel 13 and a friend of mine told me that one day he was taking a bath at the Carlyle Hotel when he heard me in the bedroom and shouted out to his wife to ask what the hell was I doing in their bedroom. She did explain that it was me on the television. The opening of our show was on his 60th birthday and was only marred by the fact that later that night the Grey Organisation decided to attack Cork Street by hurling buckets of grey paint at all the galleries.
Grey Organisation attack on Cork Street, 1985, photographed by Toby Mott
---
Edward Ardizzone
Ted and my father were at school together in the First World War and remained friends all their lives. My father showed him many times over the years and I continued to show him too and this exhibition in 1985 was to be the last. At the school there was a rather appropriately named French master Count de Barmey. He and Ted were the only Roman Catholics at the school so every Sunday the two of them would go to mass and afterwards on to the pub - this nearly caused my father to think about converting. Another friend of theirs was called Sandy Watt, one day de Barmey furious with Sandy shouted: "Are you mad or what" to which Sandy replied: "Watt Sir" and a thrashing followed.

Ted was the most delightful man and about the only thing that would upset him was an unfinished glass of wine so often after a meal he would go round the table finishing them all off. I remember all his children's stories from my childhood with great pleasure and am only sorry that today's children don't enjoy them as we did.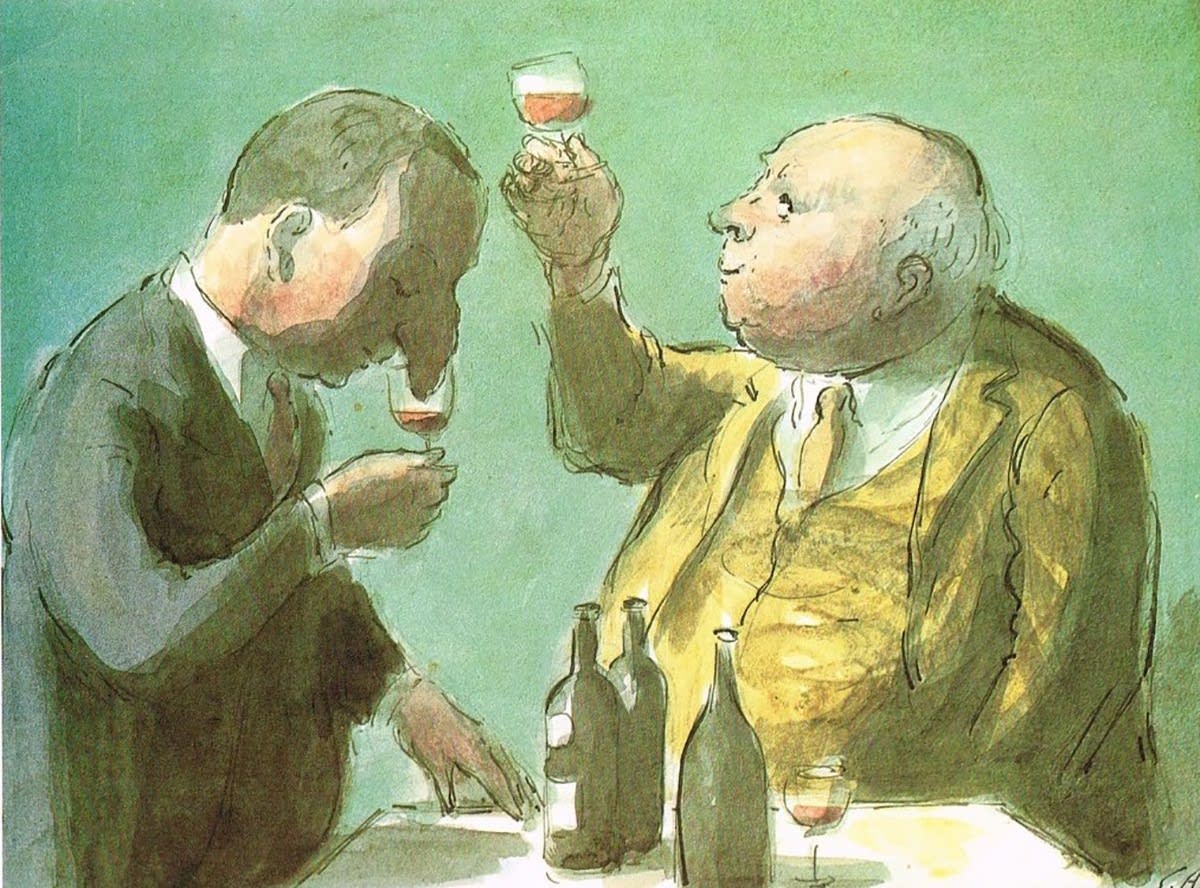 Edward Ardizzone, A Delicate Nose, cover of the 1979 Scottish Arts Council exhibition catalogue, Private Collection
June 25, 2020