Andy Warhol
When British Vogue called me at home on the Sunday afternoon of February 22nd to ask me to write an obituary for Andy, you can imagine my shock in hearing about his death this way. I had just completed the sale of Warhol's Red Elvis, 1962, to Magnus Lindholm, who always seemed to be in the right place at the right time, for $300,000. A couple of years or so before, Bruno Bischofberger had consigned the painting to Leo Castelli. Leo had it hanging in his office when he heard that S. I. Newhouse was on his way to see him. Realising that Red Elvis was far superior to the coloured version that he had just sold him, Leo asked for the Red one to be taken down. However in the panic it was dropped and the canvas was slightly damaged. After an excellent restoration and prolonged negotiations with the insurance company, it was sold to the Seibu Department store. I knew that the Lindholms particularly wanted this one, so I was able to track it down and buy it from Seibu for $250,000. Fourteen years later the painting was involved in a particularly unpleasant lawsuit but that's another story for another time.
Andy's memorial service on April 1st was held at St. Patrick's Cathedral where John Richardson had given the most moving eulogy which addressed brilliantly Andy's conflict between his deep Roman Catholic beliefs and his homosexuality. Afterwards there was a wake at what had been Jimmy Rose's Diamond Horseshoe Club. It was in the basement of the Paramount Hotel, which had recently been bought by Ian Schrager and Steve Rubell of 'Studio 54' fame. All the tables were covered in Andy's Camouflage fabrics and all the flowers were done by the then go-to party planner Robert Isabell. There was a slight misunderstanding; Andy's group thought that Robert Isabell was doing it gratis so they were rather surprised when they were presented with an invoice. I ran into David Whitney at the party who asked me if I would like to buy their Claes Oldenburg 'Strong Arm' 1961 for $160,000. Of course I bought it especially as he and Philip Johnson had bought it directly from the Tremaines.
Claes Oldenburg, Strong Arm, 1961, plaster and enamel paint, 43 3/8 x 32 3/8 x 5 1/2 inches (110.2 x 82.2 x 14 cm), Private Collection
---
---
American Painting with Chinese Furniture
We were always interested in trying to put new ideas into our exhibition programme. The idea for this show came up when Nick Grindley asked us if we would like to showcase some of his Chinese furniture (this was long before the fashion of having altar tables in the front hall). I thought that putting his stock alongside ours would make a great exhibition and indeed it did; we had works by Agnes Martin, Claes Oldenburg, Bob Rauschenberg, Ad Reinhardt, Jim Rosenquist, Cy Twombly, Andy Warhol and Tom Wesselmann. I sold the Reinhardt, which I had traded the year before with Peter Brant, to Jeffrey Steiner but sadly not long afterwards it was destroyed in his warehouse by a forklift truck.
I was delighted when Barney A. Ebsworth (keen to include the 'A' after his father - Alec - who was born at Windsor Castle, Barney's grandfather was garrisoned there at the time, hence the name of his company, Windsor Capital) walked in off the street and bought the Oldenburg Strong Arm and the Warhol Big Campbell's Soup Can with Can Opener (Vegetable), 1962, which I had bought at Ted Ashley's sale at Christie's. Ted had bought it directly from the Tremaines. These two purchases were a major departure from his previous collecting of American Modernism but he did continue buying in this vein.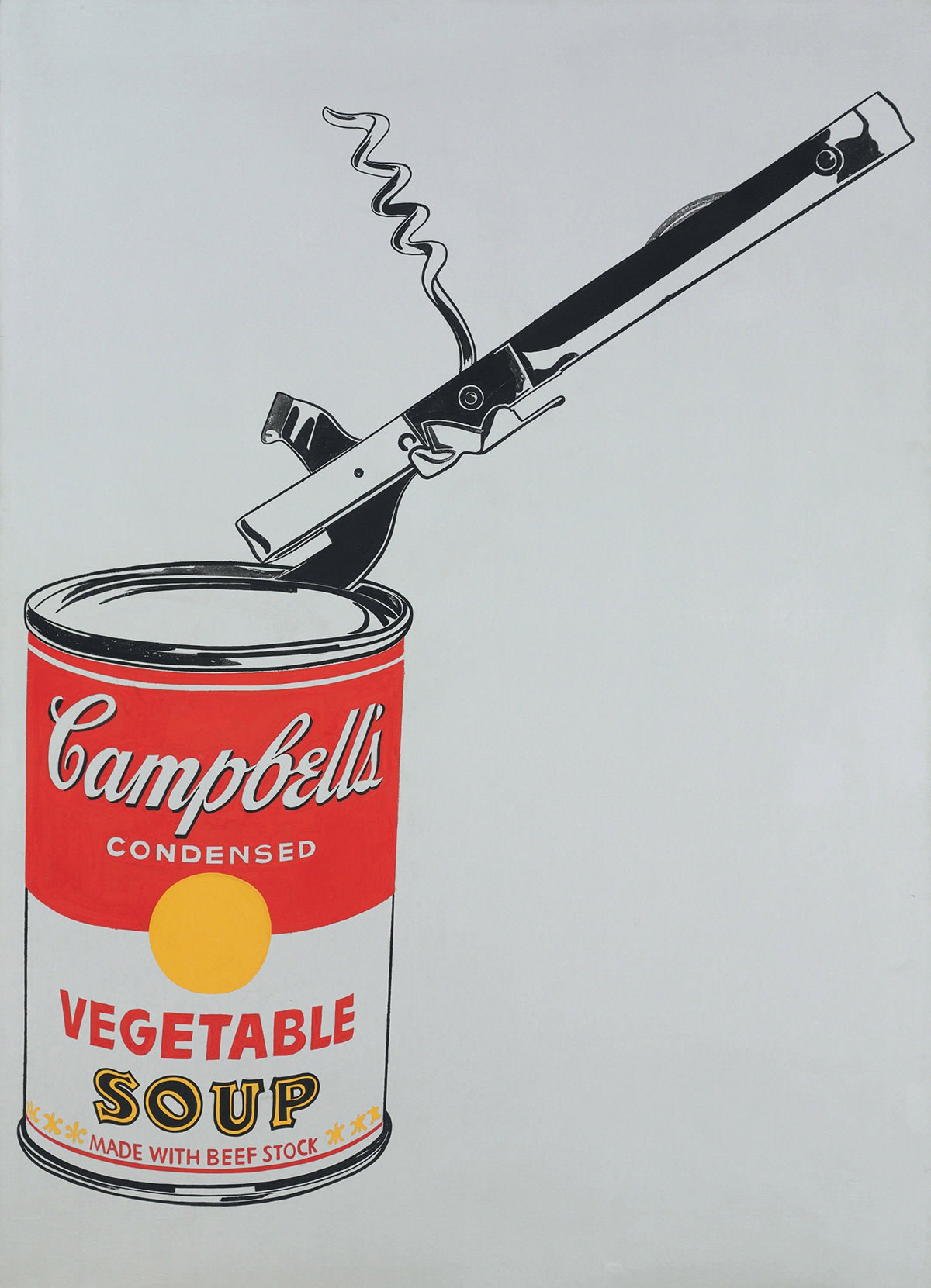 Andy Warhol, Big Campbell's Soup Can with Can Opener (Vegetable), 1962, casein and graphite on linen, 72 x 52 inches (182.9 x 132.1 cm), Brant Foundation
When Barney was told by somebody - after we had done the deal - that I had bought the Warhol only the year before at auction, he wanted to renegotiate the deal which reluctantly I agreed to and eventually sold them both for $680,000. I have always been wary of buying at auction as everybody knows what you paid for a piece and often feel like giving you less profit regardless of how long you might have owned it. Anyway, when he sold it more than 20 years later he made about 60 times on what he paid. At the same time Barney nearly bought Rauschenberg's Magician II, 1961, but maybe he felt it was too fragile with all the objects or maybe he felt he had spent enough for one day. Sometime later he did buy a smaller and definitely inferior Rauschenberg but not from me.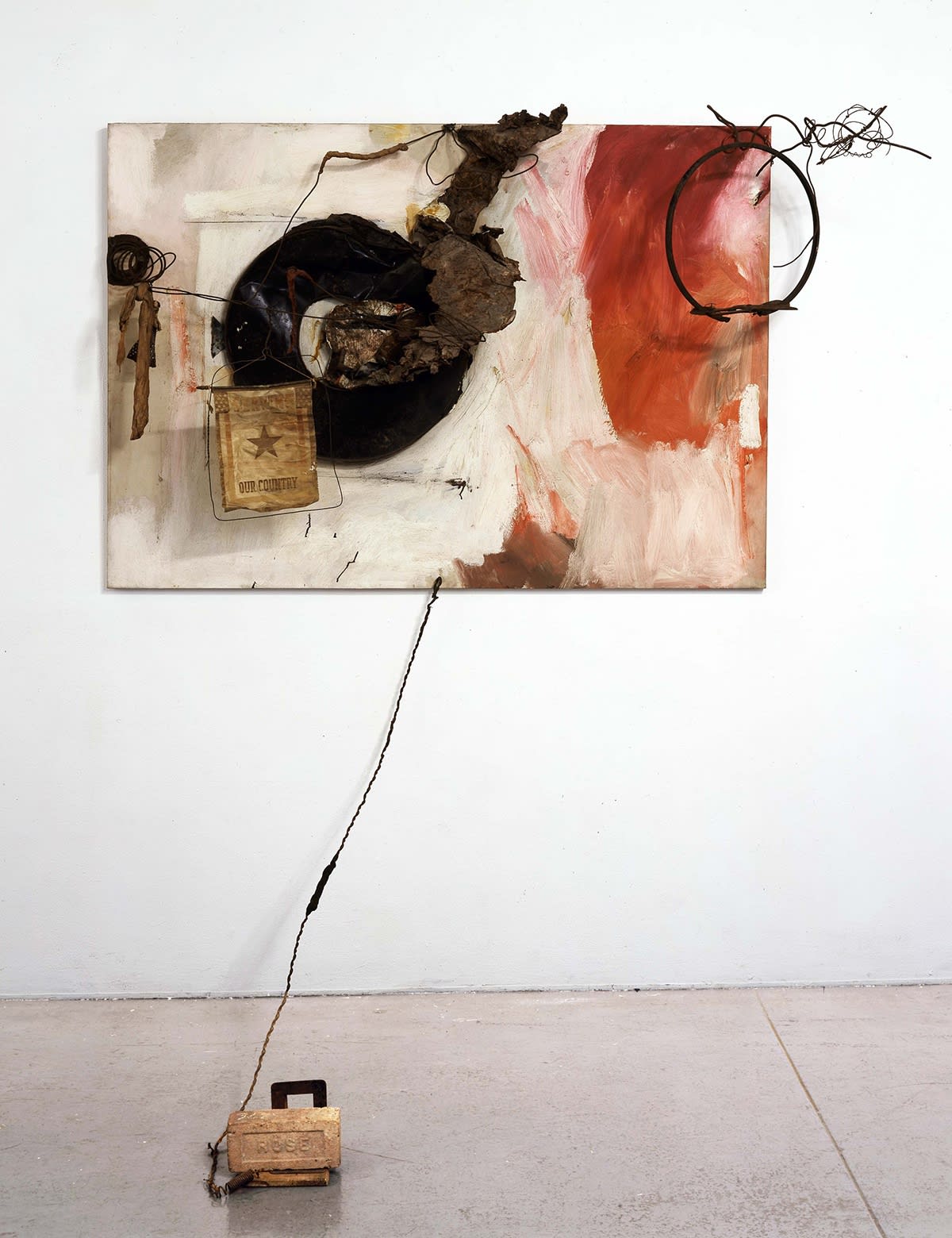 Robert Raushenberg, Magician II, 1961, mixed media, 42 x 60 x 15 inches,(106.7 x 152.4 x 38 cm), Private Collection
---
The Golden Age of Collage
Collage is a medium I really associate with the masters of the 20th century and truly came into its own with Dada and Surrealism. This show, which was brilliantly chosen and curated by Timothy Baum, was a complete masterpiece, and gave people the rare chance to see collage at it's best. It included works by Arp, Duchamp, Ernst, Hoch, Magritte, Miro, Picasso and Schwitters. We sold the majority of the works to two collectors: one was Jeffrey Steiner, who has since died and the collection dispersed, and the other was Gabrielle Keiller, who had been a very loyal client of both mine and my father's. Gabrielle had had a very varied life having been an amateur golf champion and her second husband was Alexander Keiller who was responsible for the excavating of the Avebury Circle and himself a collector of books on witchcraft and silver and pottery creamers, all of which are now in museums. Through her friendship with Eduardo Paolozzi she became interested in Surrealism. She completely understood that to form a Surrealist Collection you needed a lot more than large obvious 'masterpieces'. She had an extensive library of books, pamphlets and other ephemera relating to surrealism and therefore this exhibition was heaven sent for her, and so bought a number of works including a Marcel Duchamp and a Bellmer. On her death she bequeathed her entire collection to the Scottish Gallery of Modern Art including her extensive group of works by Paolozzi. Her collection, plus the many works from the Penrose Collection which included his library and archive, has made Edinburgh one of the main Surrealist collections in the world.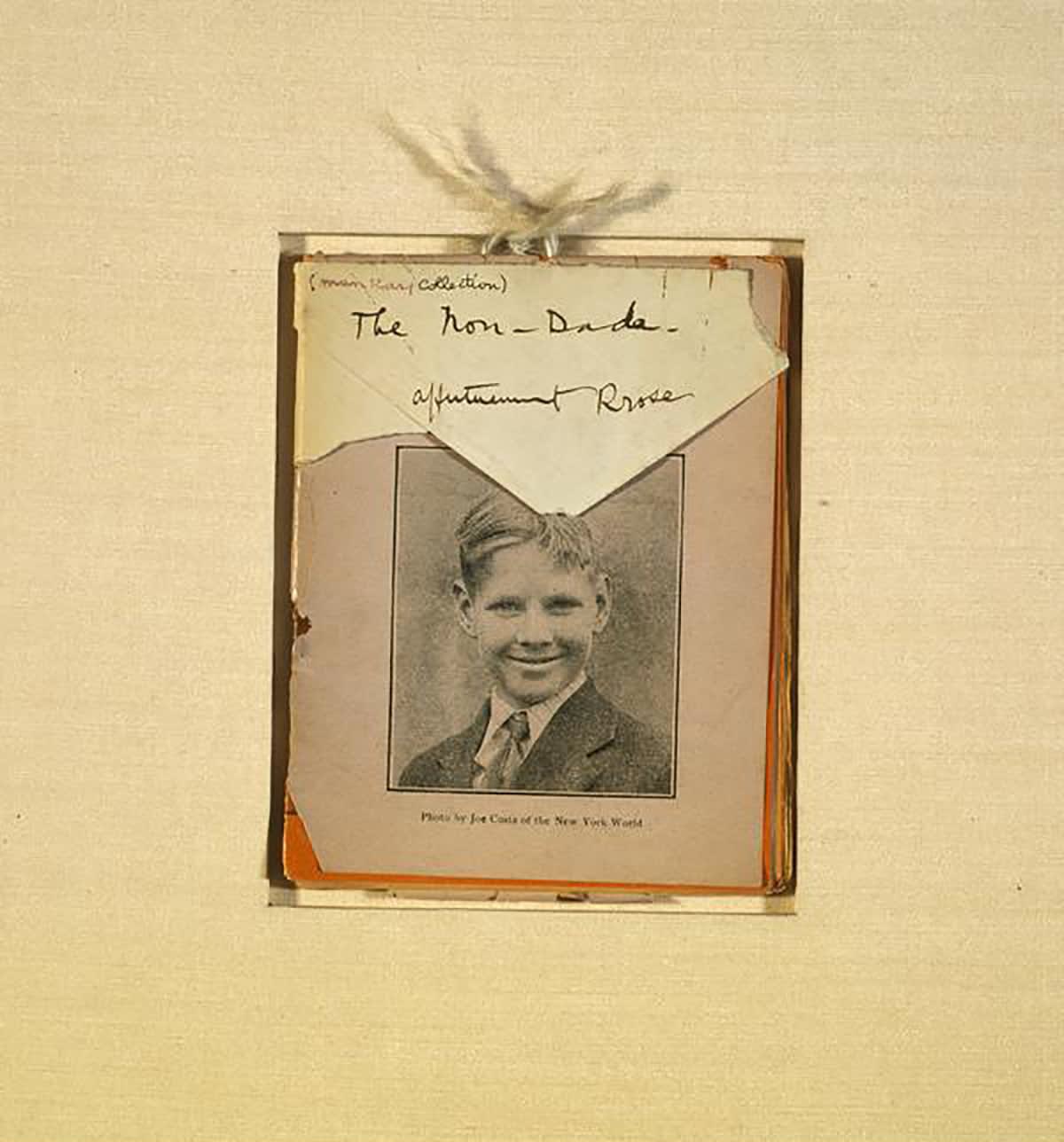 Marcel Duchamp, The Non-Dada, 1922, printed brochure with ink inscription, 5 1/2 x 4 3/8 inches (14 x 11 cm), Scottish Gallery of Modern Art
---
Desmond Morris
We held our first exhibition of Desmond's work immediately following our collage show. Desmond is probably best known for his best selling book 'The Naked Ape' and his work in television including with Congo, who was probably the first chimpanzee to have a museum show of paintings! Desmond had always been a painter and in the late 1940s was a member of the Birmingham Surrealist Group.

Linda McCartney came by and was interested in Desmond's The Survivors, 1950 as well as a Magritte collage from the previous show. I put them together and said that the Magritte was £100,000 and the Morris was £1,000. After a bit of thought she chose the Desmond Morris and proceeded to write out a check for £100,000 to which I remarked it would have been a world record for a work by Desmond! The other day in conversation he said that he is probably the only artist in the world whose animal protégé's work (Congo) has sold for more than any of his works.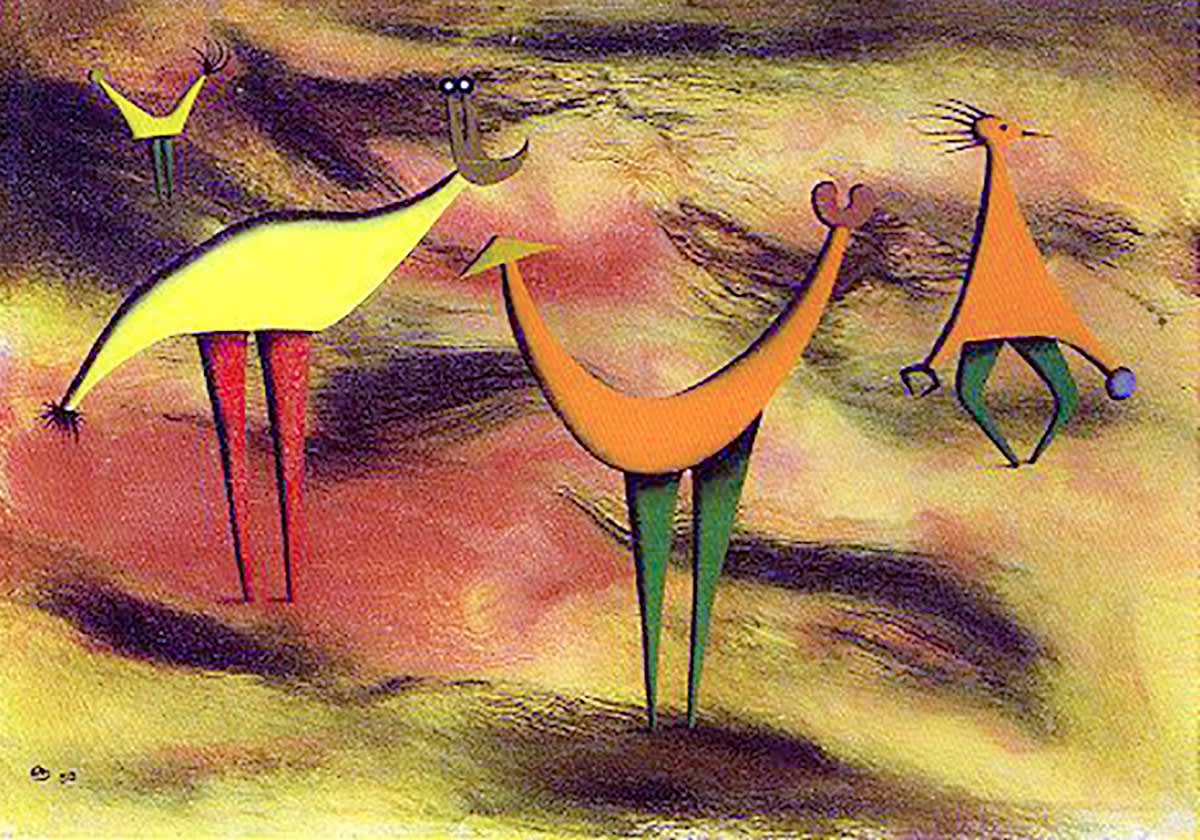 Desmond Morris, The Survivors, 1950, oil on canvas 10 x 14 inches (25 x 35 cm)
July 9, 2020