Mayor Rowan Gallery
In 1962, Alex Gregory-Hood founded the Rowan Gallery, in Belgravia, soon after leaving the army after 25 years of distinguished service. He moved to Bruton Place in 1968, where Timothy Rendle designed the most beautiful gallery space, and when that lease ran out in 1982, he went into partnership with Annely Juda and her son, David, to form Juda Rowan which lasted until 1987. Alex discovered that his old gallery in Bruton Place was available once more and he felt that if he could find a partner he would take it on again, as he had a number of interesting artists in his stable including Antony Donaldson, John Golding, Philip King, Mark Lancaster, Bridget Riley and Sean Scully. In 1968, the Rowan had been the first gallery in London to have a Warhol exhibition as well as representing Michael Craig-Martin and Barry Flanagan.

David Grob and I decided to join up with him and form Mayor Rowan as we felt that it was an ideal time to open an auxiliary gallery for the younger collector, because it was the time when the Big Bang was taking place in the City. As there were going to be a whole new group of young collectors from abroad living in London. We hoped that they would bring over their culture of visiting galleries and museums, still a way of life in New York, and therefore it might have become part of the London culture. It didn't work out like this as many of the new influx to London, rather than bringing their interesting culture to London, became more English than the English - taking up hunting and shooting with a vengeance.

We were in hindsight at least a dozen years too early in our thinking. Also David and I realised that the new buyers were not going to buy from old farts like us but would prefer to buy from their own generation. So we employed Kay Hartenstein, who had just arrived from New York and was to become Charles Saatchi's second wife, to be the gallery manager, as we felt she would be more attuned to the new crowd. Sadly it didn't work out; so we closed in the early 1990's as the great recession of 1990 took its toll. But it was fun whilst it lasted, even if it was a costly adventure.

We invited Paula Cooper, Yvon Lambert and the Stux Galleries to curate shows from their galleries, and with these and other shows we exhibited amongst others; Donald Baechler, Lawrence Carroll, Robert Combas, Rebecca Horn, Jonathon Lasker, Elizabeth Murray, Nam June Paik, Joel Shapiro, Keith Sonnier and the Starn Twins for the first time in London.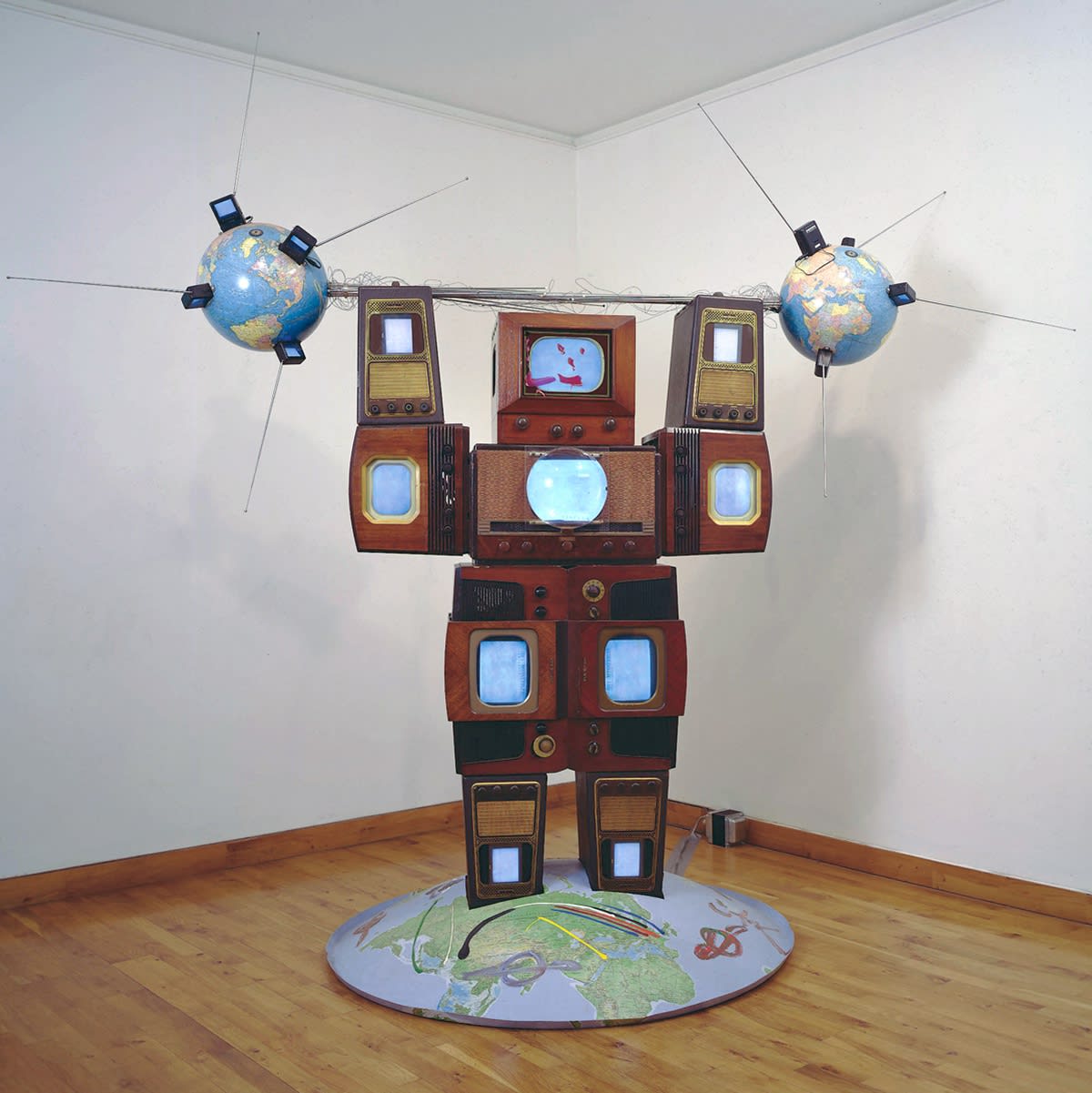 Nam June Paik, Wrap around the World, 1990, mixed media, 98 1/2 x 94 1/8 x 160 inches, (250 x 240 x 160 cm), Berardo Collection
My mother's cousin Grigg Mount was a champion camellia grower. He lived between East Preston in Sussex and Claridge's, which he called his London cottage. One day he came round to see me at the gallery to tell me about a dilemma he had. His neighbour had just died and he knew that she had Bridget Riley's Horizontal Viewations, 1961 that her heirs neither liked nor knew what it was. He saw three possible scenarios: The first was that they were going to throw it out which meant he would have to hang around their drive every rubbish day, the second was that they would give it to a charity shop and therefore he would have to go around all the local charity shops every day and the third was to try to buy it from them but here he saw a catch-22 for if he offered too much they might realise that it might be worth something. Without giving him a price, I told him to try to get it and that I would buy it from him. A week later he came in with the painting and told me for £2,200 it was mine as he had bought it for £200 and was happy with a £2,000 profit. I bought it with David Juda and not long afterwards he sold it for £6,800.
---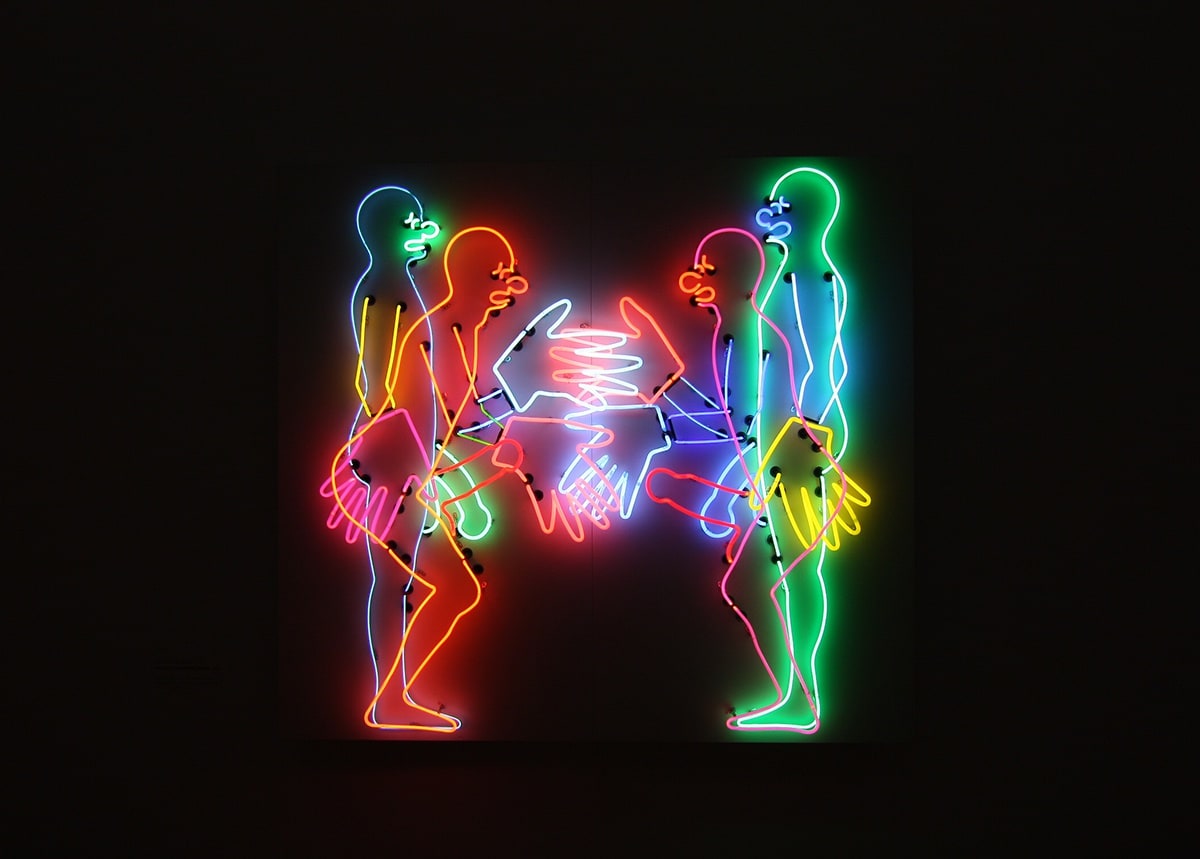 Bruce Nauman, Mean Clown Welcome, 1985, neon mounted on aluminium, 72 x 82 x 11 1/2 inches (183 x 208 x 29 cm), Private Collection
In Memory of Toiny Castelli
Toiny, who was Leo Castelli's second wife, died in 1987. Leo and I thought that this memorial show for Toiny would make a logical follow on from our 1985 show. The majority of the exhibition was consigned by Leo and, except for three artists that were in both shows, we were able to show another group from his stable. One of them was Bruce Nauman whose neon piece Mean Clown Welcome, 1985, kept the visitors to the show endlessly amused. The other neon was Keith Sonnier's MM (neon wrapping light bulbs),1968, this was the most beautiful work and still today Keith's work is not properly appreciated.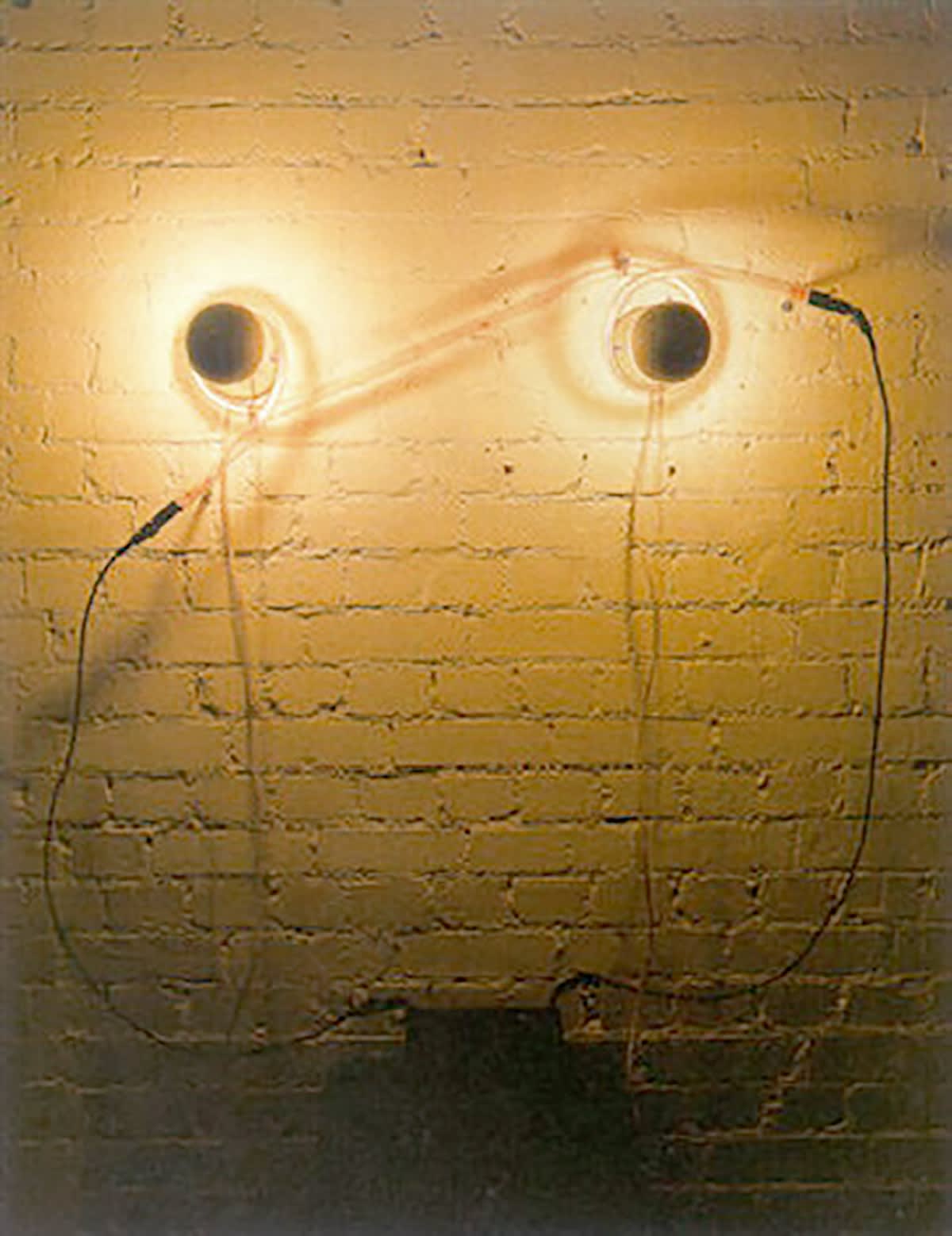 Keith Sonnier, MM, 1968, neon wrapping light bulbs, 44.9 x 43.3 x 11 inches (114 x 110 x 28 cm), Private collection
After Xavier Fourcade, who was one of John Chamberlain's dealers, died in April 1987, his gallery was being run by Bernard Lennon and he still had two Sculptures from the 1987 black and white series for sale. I bought them both, as I consider them to be from Chamberlain's last great series, and I included Corncharm, 1987 in this exhibition.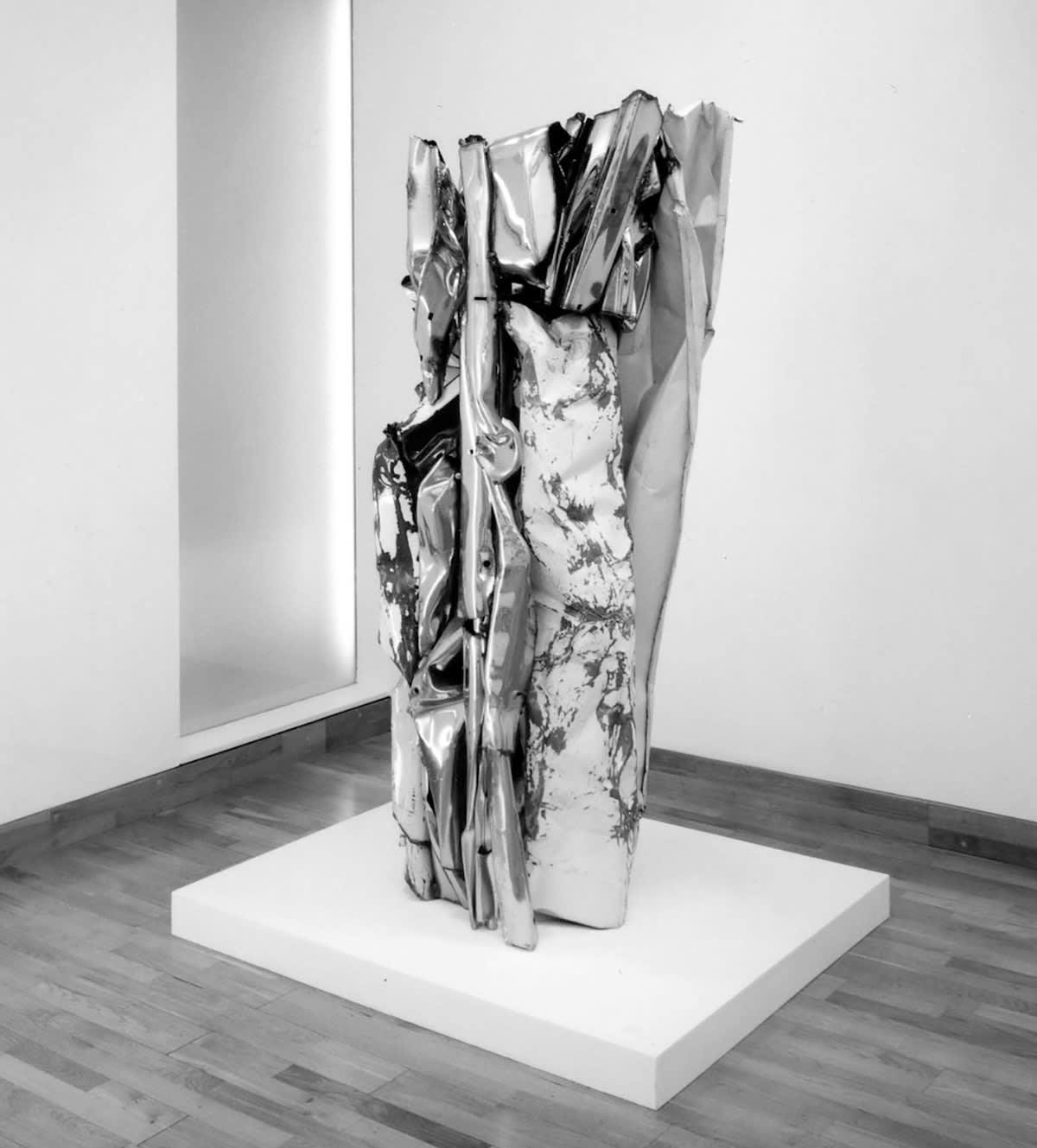 John Chamberlain, Corncharm, 1987, painted and chromium plated steel,72 3/4 x 25 1/2 x 17 3/4 inches (185 x 65 x 45 cm), Private Collection
---
Tom Wesselmann
Daniel Varenne and I decided that we would buy as many works by Wesselmann from the 1960's as we could, which resulted in this exhibition. The opening was the most amazing fun and is still being talked about today. In order to get a 1960's atmosphere, we hired a few topless waitresses handing out cigarettes. It wouldn't have surprised me if some of the guests didn't think about taking up smoking. Victor Lownes, who had run the Playboy empire in London, brought Derek Watson who was the rector of St. Lukes's, Chelsea and subsequently became Dean of Salisbury Cathedral - eyes were out on stalks!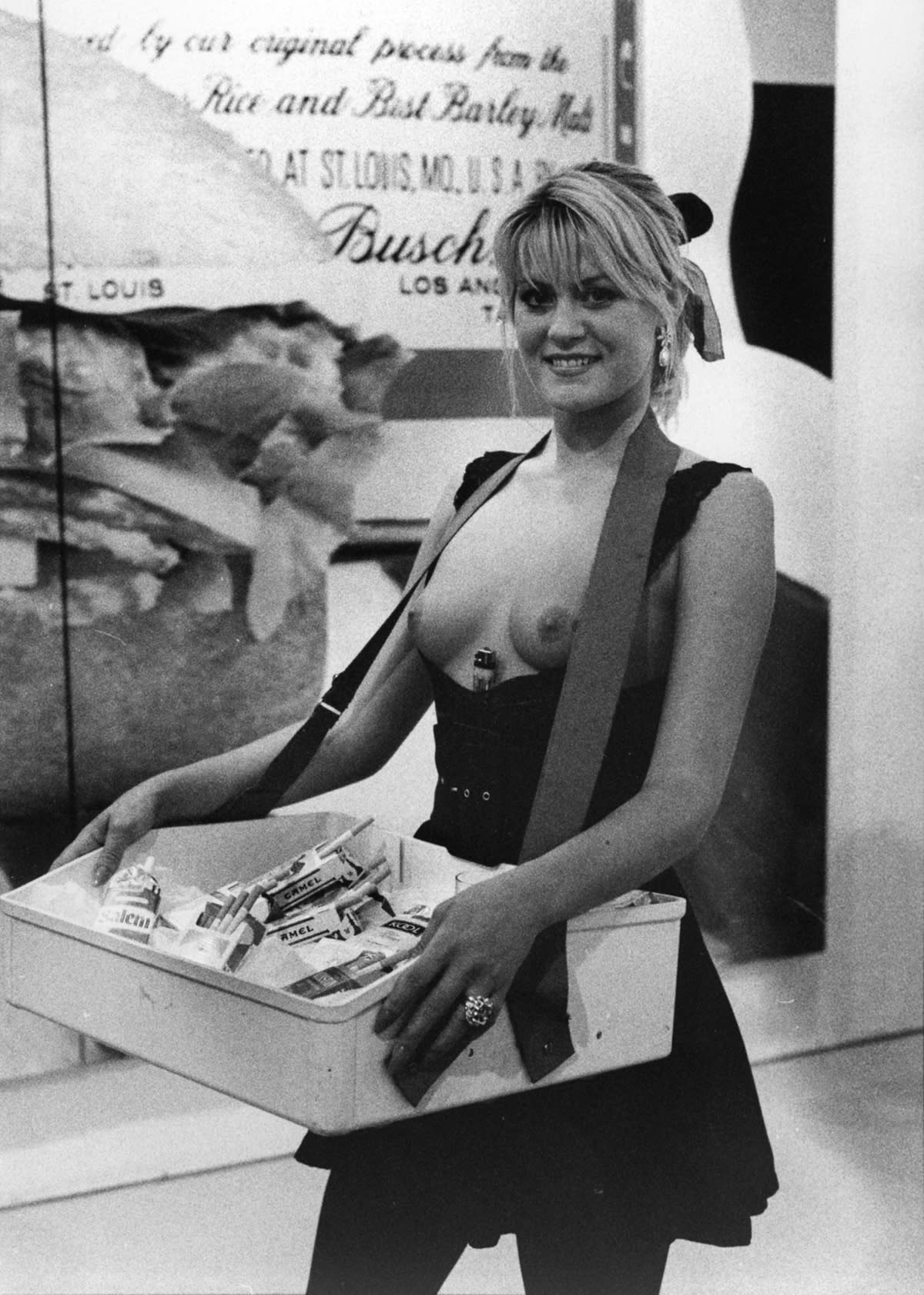 I saw the Wesselmann Bathtub Collage #2, 1963 at Gordon Locksley's gallery when I first visited Minneapolis in 1970. I had been trying to buy it for years and every time I had thought I'd nearly got it, he'd up the price. Daniel and I decided that the next time he gives a price we will just say "yes". We did just that and paid him $300,000 for it. We didn't sell it at the show but when it was travelling in a major Pop Art show that started at the Royal Academy in London in 1991, we were approached by somebody on behalf of the Museum of Contemporary Art, Tokyo, to see if they could reserve it for the length of the tour for $1,000,000 and give us a non returnable deposit of $50,000. This being during one of the worst recessions in the art world, Daniel and I couldn't believe our luck. Only years later did we know why they were so happy to pay up, because when the scandals came out of Japan we discovered that the museum paid $1,960,000 and the intermediaries had carved up $960,000 for themselves!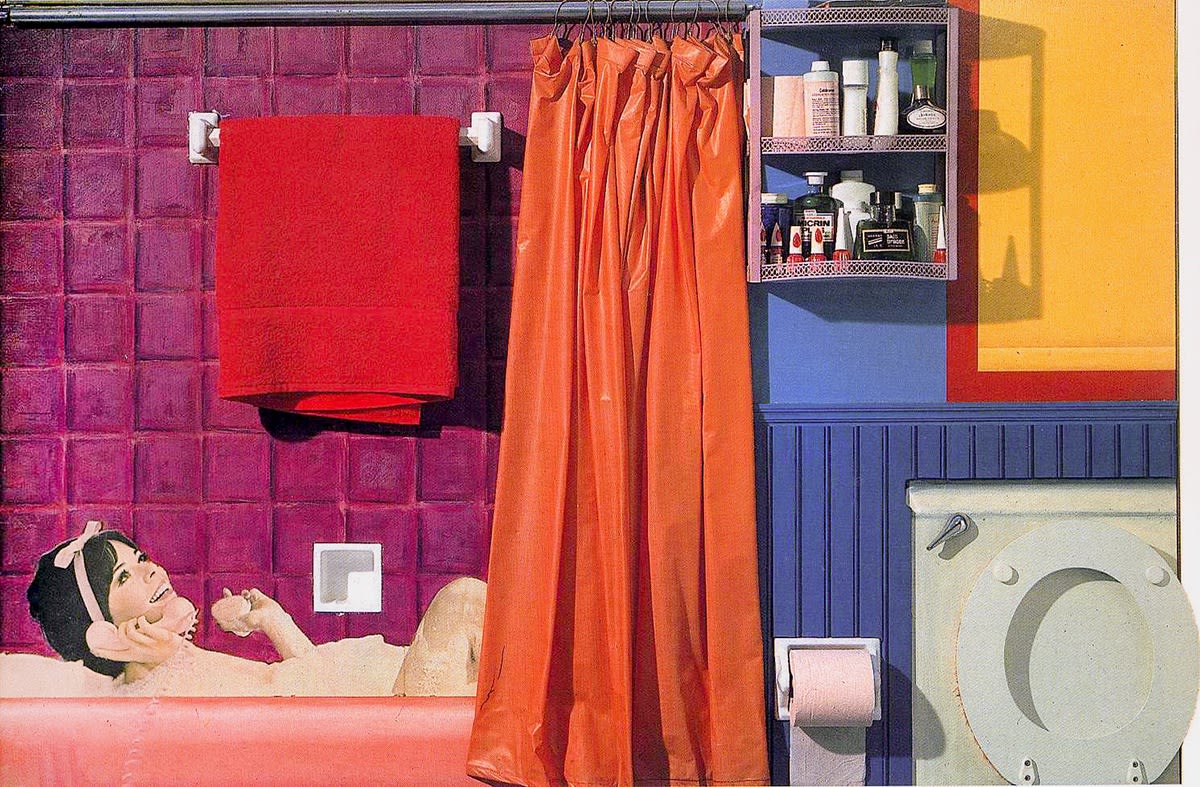 Tom Wesselmann, Bathtub Collage ♯2, 1963, oil, collage, object on board, 48 x 73 x 6 1/2 inches (122 × 185.5 × 16.5 cm), Museum of Contemporary Art Tokyo
July 16, 2020